Reference Letter for a Nurse
When you experience something bad in your life, it is the people who stand by your strong that you always remember and cherish for the rest of your life. One must try to appreciate their work and help them in any possible way. Reference letters are one of the ways to do so. Moreover, you can also write such letters for someone you know very well or have known for too long. These kinds of reference letters in good words can sometimes help the other person a lot. Following is a sample of such letter.
Reference Letter for a Nurse
[Your Name]
[Address]
[Letter Date]
[Recipients Name]
[Address]
[Subject: Subject of Letter] -Optional-
Dear [Recipient's Name],
My name is [sender's name] and I am [22 years] old. About a year ago I had a terrific accident as a result of which I lost my leg. I stayed in intensive care unit for two weeks after which I shifted to the normal ward and had to stay there for three months. During all that time Nurse [Nurse's name] took care of me. By that time I was all awake and in my consciousness, so I know how hard she worked to take proper care of me. When I had sleepless nights, she used to stay up with me all night. Her kind words and loving gestures cured half of my pain.
Nurse [nurse's name] is a kind of person who will always leave a warmth of love and kindness wherever she goes. I wish her the best of everything and I hope this will help her. Thank you very much.
Yours Sincerely,
[Your Name]
[Senders Title] -Optional-
Download Details: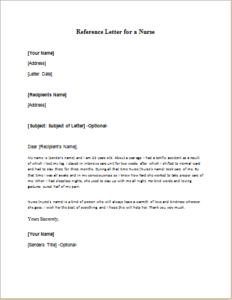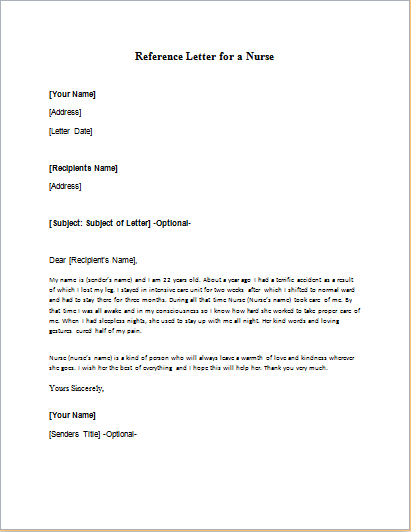 Reference Letter for a Nurse
Size: 25 KB Word .doc File 2003 & later
Download
Size: 183 KB PDF File
Download
[personal use only: Not for Resale & Distribution]