Reference Letter for a Nurse
When you experience something bad in your life, it is the people who stand by your strength that you always remember and cherish for the rest of your life. One must try to appreciate their work and help them in any possible way.
Reference letters are one of the ways to do so. Moreover, you can also write such letters to someone you know very well or have known for too long. These kinds of reference letters in good words can sometimes help the other person a lot. Following is a sample of such a letter.
Sample
My name is [sender's name] and I am [22 years] old. About a year ago I had an accident as a result of which I lost my leg. I stayed in the intensive care unit for two weeks after which I shifted to the ward and had to stay there for three months. During all that time Nurse [Nurse's name] took care of me. By that time, I was all awake and, in my consciousness, so I know how hard she worked to take care of me. When I had sleepless nights, she used to stay up with me all night. Her kind words and loving gestures cured half of my pain.
Nurse [nurse's name] is the kind of person who will always leave the warmth of love and kindness wherever she goes. I wish her the best in everything and I hope this will help her. Thank you very much.
2-
To Whom It May Concern
I am pleased to write this reference letter for Sister Elsa, who has worked with us as a senior staff nurse for seven years. I endorse her as your next senior staff nurse for your family care hospital. I have worked as her supervisor and that's why I assure you that she is a dedicated lady and has been bestowed with a great sense of responsibility. She is moving with her family and I think she must go nowhere else but to join your prestigious hospital. She was one of my best staff nurses and her professionalism will be missed.
As her supervisor, I was amazed by her communication skills with doctors, patients, and colleagues. She can handle emergencies and I found her working confidently under such stressful circumstances. She has always been eager to learn new things which can be used to provide the best care to patients.
By means of her professionalism, she affected her patients in a positive way. Everybody respected and liked her by virtue of her helpful attitude. For most difficult cases, she was also used as a resource person by doctors on various occasions.
She has an excellent ability to adapt to new situations very quickly. I witnessed it last year when our hospital faced a sudden and relatively large influx of patients after a natural disaster. She organized all the work efficiently with a small number of available nurses at that time.
After that incident, I consider her a reliable lady who knows how to perform her duties in an efficient way while treating each person with respect. We enjoyed working with her. Even though she is going to be missed, I strongly refer her to you.
There will be a big gap in our hospital without her. I believe that Sister Elsa's professionalism and relevant experience will help her find a worthy nursing position at your hospital. If you have any queries about Elsa, feel free to contact me through email.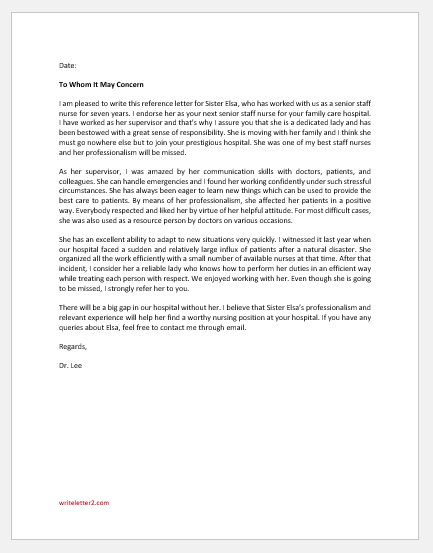 Download
---
3-
To Whom It May Concern
I feel proud to write a reference letter for Sister Anna, who has worked with us as a senior staff nurse from March 2016 to July 20XX. If asked, I would define her in terms of an individual who is always eager to learn new things. Her ability to adapt to new and sudden situations made her one of the most respected staff members of our hospital.
Even during the most stressful conditions during the peak phase of the pandemic, she always remained calm and demonstrated her excellent nursing skills. Owing to her professionalism and great skills, I would refer Sister Anna as your next staff nurse for your hospital.
She has many abilities to her credit. For example, she is a talented, professional, organized, well-mannered, and dedicated lady. She is a kindhearted lady and has always been sympathetic with her patients. Throughout her tenure, she recognized herself as an outstanding nurse among the whole staff.
She always remained a step ahead of what was supposed to be performed by her. She provided compassionate care to patients and helped them recover as soon as possible. Anna was seldom absent from her duty and in this way, she made a strong working relationship with doctors and other staff members working in collaboration with her.
Apart from all the traits, Anna can work independently and knows how to get the work done as per requirements. Moreover, she is flexible and willing to deal with any kind of patient. It was witnessed during the peak phase of COVID-19. She offered her services to those patients voluntarily and worked heartedly in collaboration with doctors.
Briefly, I assure you that Anna would be a tremendous addition to your hospital, and I highly recommend her for the position of senior staff nurse. Feel free to contact me if you have any queries about her.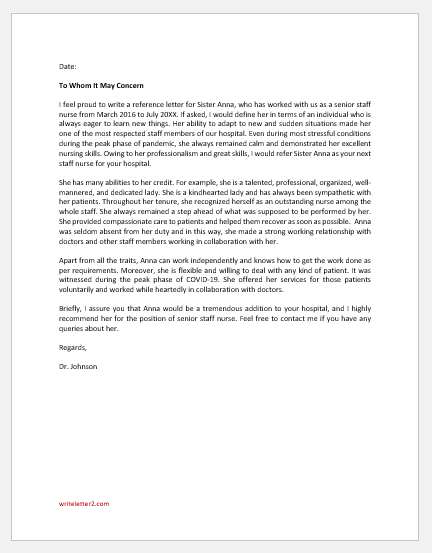 Download