Thank You Letter to Someone for Volunteer Work
Thank you is a magic wand. It can do miracles for you. While some people totally ignore the importance of Thank you, there are some who understand how using these small words can change so many things. You're especially indebted to thank people when they voluntarily work for you. Working voluntarily means they'll be taking no reward of their services and no compensation for giving their precious time. You should thank them anyways. Thank you letters to volunteers help encourage them for future volunteering, boost their morals and give them the realization that their effort is appreciated. Whether you take help of volunteers for a charity cause, for school, university programs, for webinars, whatever, don't forget to appreciate them at the end by sending them a thank you letter.
This letter can be used to thank volunteers for their efforts and contributions.
Thank You Letter to Someone for Volunteer Work
[Your Name]
[Address]
[Letter Date]
[Recipients Name]
[Address]
[Subject: Subject of Letter] -Optional-
Dear [Recipient's Name],
I am writing to you in order to thank you for your contribution as a volunteer at [enter event/cause]. I owe you big thanks and am indebted to you for your sincere efforts. A certificate of appreciation is enclosed which will always remind you of your company with us. We cannot compensate you anyways and this is just our humble way of appreciating and recognizing your efforts. Please accept it.
Thank you very much!
Sincerely,
[Your Name]
[Senders Title] –Optional-
Download Details: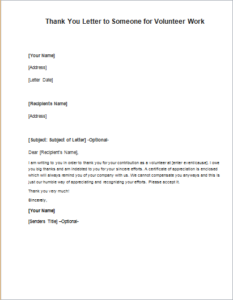 Thank You Letter to Someone for Volunteer Work
Size: 25 KB Word .doc File 2003 & later
Download
Size: 170 KB PDF File
Download
[personal use only: Not for Resale & Distribution]