Thank You Letter to Someone for Volunteer Work
Thank you is a magic wand. It can do miracles for you. While some people totally ignore the importance of Thank you, there are some who understand how using these small words can change so many things. You're especially indebted to thank people when they voluntarily work for you.
Working voluntarily means they'll be taking no reward for their services and no compensation for giving their precious time. You should thank them anyways. Thank you letters to volunteers help encourage them for future volunteering, boost their morals and give them the realization that their effort is appreciated.
Whether you take the help of volunteers for a charity cause, for school, university programs, for webinars, whatever, don't forget to appreciate them at the end by sending them a thank you letter.
This letter can be used to thank volunteers for their efforts and contributions.
1-
Dear Mr. [name]
I [title] [name] from [organization name] am writing to thank you for your valuable contribution to our plantation drive.
There was a time when our beautiful city was known for greenery. Early mornings would be full of bird songs and the air was clean and fresh. Then came the phase of rapid development of housing societies which resulted in entire green areas cut down and cleared. The gravity of the situation can be assessed by the fact that the air quality index of our city is now among the worst in the country.
The heat index has risen by 2 degrees in the past 30 years. This situation is alarming as it is affecting the health and wellbeing of all the residents of this city and if left unaddressed it will worsen over the years.
This is the reason why we gave a call for a massive plantation drive across the city. You volunteered for this cause by signing up in our camp on [name] road held on [date]. You turned up on all the given dates at the announced places and helped us plant trees.
You brought ten other volunteers made them aware of the risks of deforestation and guided them to the steps we can take to improve the situation. We want to thank you for your support and dedication to this cause. If all of us pay to play our part, we can bring about very positive changes which would benefit not just us but the coming generations after.
As the Chinese say, 'The best time to plant a tree was 20 years ago. The second-best time is now. We hope you would keep turning up on these drives and help us in spreading this important message.
2-
Dear Mr. [name],
We want to thank you for your valuable contribution to the worthy cause of cleaning our city. Our beautiful city has become unrecognizable due to the garbage dumps and littering. It is high time that we change ourselves and get together to fight this monster destroying our beautiful environment.
The parks where the kids used to play have now turned into eyesores due to littering. Plastic bottles, wrappers, and fruit peels lying all over the place make it repulsive and unfit for any family outing. Therefore, we took up the challenge to clean one park at a time and requested people to volunteer for this worthy cause.
The second part of our campaign was to arrange for our volunteers to visit schools and other public places and spread awareness regarding this issue.
On every weekend in the last month, we visited a different park and cleaned it with the help of our volunteers which we had divided into different teams. One team collected the litter. The other one painted the walls and swings etc. wherever a lick of paint was required.
And the third team educated the people in the park regarding the importance of picking up their own trash and the civic duties of every citizen in this regard.
We want to appreciate your active participation in all these activities and the fact that you convinced others to join us and sponsored a lot of the activities like a painting of wall mural in [name] park and provision of dustbins in [name] and [name] park. We are sure that our combined efforts would start making a change and soon our city would return to its previous glory.
The coming generation would grow up in a clean and healthy environment where there are plenty of opportunities for them to play and get in touch with nature.
Keep up the good work!
3-
I am writing to you to thank you for your contribution as a volunteer at [enter event/cause]. I owe you big thanks and am indebted to you for your sincere efforts. A certificate of appreciation is enclosed which will always remind you of your company with us. We cannot compensate you anyways and this is just our humble way of appreciating and recognizing your efforts. Please accept it.
Thank you very much!
Download Details: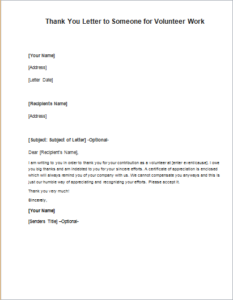 Thank You Letter to Someone for Volunteer Work
Size: 25 KB Word .doc File 2003 & later
Download
Size: 170 KB PDF File
Download