Office Cleanliness Policy Letter
In order to maintain a clean and hygienic environment in the workplace, a letter for Office Cleanliness Policy is written by the company's supervising employee. It is written to the staff members with some intended cleanliness instructions set forth by the company. All the addressed employees must follow the regulations to minimize the effect of unprofessional values in workplaces.
A cleaned working atmosphere can contribute to a productive approach. And, substituting it with a cleanliness policy may inform them about the company's expectations about hygiene. The following letters may help you in expressing your intentions to the staff members that you prefer a clean environment in your office.
Letter 1:
Dear All,
I hope everyone in this company [Company's name] is best with their health. I have been seeing great enthusiasm and hard work in my employees. You all are eager to learn so our clients can be provided with the best. Whom I am sure would be equally happy and content like me.
However, there are some professional habits which need special considerations. Among them is the habit of cleanliness and an organized environment. I suggest that the following rules must be followed by every employee so a hygienic and tidy environment can be observed by our company.
Keep your workstations neat and organized. Your desks must not be overly clustered with piles of files and work documents.
Keep a dusting tool in your drawer to clean any unwanted dust or garbage. It must be used after your lunch hours and before leaving the office
Keep sterilized wipes and sanitizers for your personal hygiene and in case of any emergency.
You must not observe your lunch or any other food item in front of your desk.
Always put trash cans to a minimal distance from your working chair. Dispose of any unwanted material immediately.
Always call the sweeper or cleaning staff in case of an emergency.
I hope that these instructions are clear and obvious to everyone. Let's strive to work in a clean environment!
Yours Sincerely.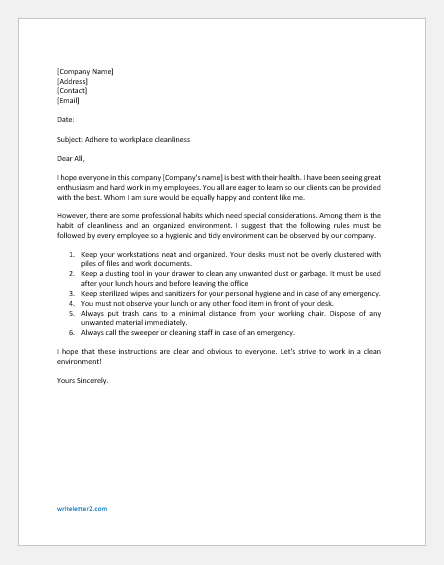 Size: 21 KB Word .doc File 2003 & later
Download
---
Letter 2:
Respected Employees,
This letter serves as an official policy for "Cleanliness" to be observed on the premises of this company [Company's name]. Upon my invigilation in previous days, I have been observing unclean and non-organized workspaces. Hence, we are setting the following Rules and Regulations to be followed, so a clean environment is reflected in our office.
We expect you all to clean your desks and workstations, with no extra object on it. Your files and documents must be cleared before leaving the office. Each cubical and workstation would be provided with personal trash which must contain all the disposed of items (including extra papers, garbage, etc). No employee is allowed to drink coffee, tea, or any liquid food item on the workstation.
We hope that devising these cleanliness regulations would make a provision for every employee to maintain their personal work areas. We hope to see a cleaned and hygienic work environment in the awaited future.
Yours Sincerely.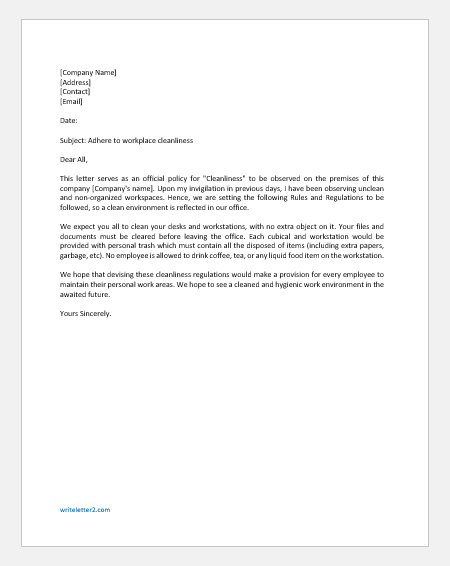 Size: 20 KB Word .doc File 2003 & later
Download