Warning Letter for Aggressive Behavior
Warning letter
A warning letter is written to those employees who are involved in something that is against the company's guidelines or the company's code of conduct. Every company has defined rules for its employees that should be followed by all employees during their work. If any employee goes against those defined rules, he is given a warning letter to improve his ways and his conduct.
Most common misconducts addressed on warning letters
There are many conducts that are against a company's guidelines. In order to know about those guidelines, all employees should know the company's policies to avoid any future miss happening. Following are the most common behaviors and misconducts that almost all companies do not allow in their workspace;
Poor Performance by an employee
Disrespectful behavior towards other employees, customers, or any company official.
Intentionally refusing to follow directions by any company official or arguing with the company manager or supervisor.
Spreading rumors about the private lives of any other employee.
Harassing any co-worker, customer, supervisor, or any company official.
Excessive absentees from work.
Violation of the dress code of the company.
Abusing any employee physically or verbally.
Behaving aggressively with any co-worker, customer, or any company official.
What should be mentioned in a warning letter?
A warning letter is an official letter; therefore, the tone of the language should be professional too. Also, the format of the letter should be a professional one. While following a professional letter format, the following things should be mentioned in a warning letter;
Mention the name of the employee with his job's title.
Mention the name of the company, the human resource manager, and the supervisor.
Briefly describe the misconduct and the details regarding it.
If possible, mention the date of the event as well.
Mention about the co-worker, customer, or company official who is affected by the behavior.
Mention the company's guidelines that were not followed by the employee.
Write about what the employee should do to correct his behavior.
Mention the name and structure of the people or parties that are mentioned in the letter.
Sample Warning Letter for Aggressive Behavior:
[Employee's Name]
[Employee's Address]
Date: (Date of writing Letter)
Subject: Warning for Aggressive Behavior
Dear [Employee's Name],
This letter is written to highlight an issue of your aggressive behavior with fellow colleagues. It is not for the first time that I have received this complaint against you. Many other employees are also disturbed by this behavior of yours.
I am issuing this letter as a warning to you for your aggressive behavior.
It is clearly mentioned in the company's guidelines that you have to behave politely with other employees to maintain the decorum of the company. It is not allowed for anyone to humiliate or show aggression to his co-workers. The company always want the well-being of its employees and customers. Therefore, in order to maintain peace among employees and to maintain a better relationship among them, it is necessary for employees to behave with other co-workers nicely.
You are expected to mend your behavior and seek counseling at [X]. The first session of counseling has been arranged for you on [DATED] and later you can fix on your own schedule.
In case you are failed to improve your behavior after the given time or any complaint registers in your name the matter will be taken seriously for a final decision.
We hope a better [Employee Name] in coming days.
Regards,
[Your Name]
[Your Designation]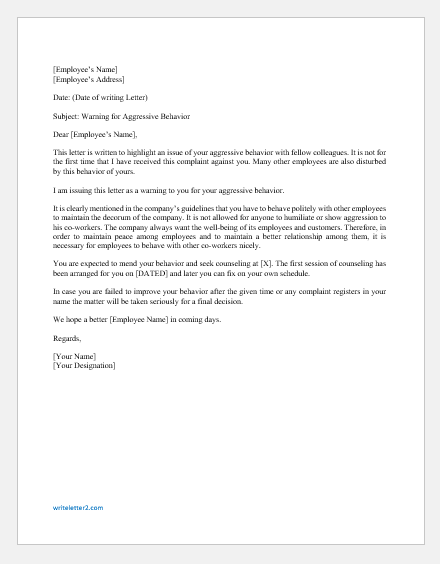 Size: 21 KB Word .doc File 2003 & later
Download
---