Letter Announcing Surplus Budget to Upgrade Equipment
This letter is written to announce the good announce of granting the surplus budget in order to perform the successful up gradation of the equipment. The details regarding the budget should be clearly explained in the letter. Mention the amount of money clearly which has been granted as a surplus budget. You should also tell in the letter that your company will use this budget and what techniques will be adopted in order to consume the budget positively. Another important information is to tell that how the company will access the budget. The main objective of writing this letter is to inform the reader that you are granting the surplus budget to the company and the reader should also be informed that this budget is only for the company and nobody else can use it. If you have imposed any other restriction of this budget, you can mention all of them in the letter.
Letter Announcing Surplus Budget to Upgrade Equipment
[Your Name]
[Address]
[Letter Date]
[Recipients Name]
[Address]
[Subject: Subject of Letter] -Optional-
Dear [Recipient's Name],
We are glad to inform that our company has a surplus budget this year. The higher authorities of the company will be informed shortly about the amount of budget which has been allocated to each department of the company. Although the funds are very limited yet I believe that they can bring a healthy positive change in the progress of the company. The surplus budget is the best way by which we can solve many problems which are encountered by our staff. All the ideas related to the use of the budget will be available by the end of this month and will be taken into consideration.
Regards,
[You're Name]
[Senders Title] -Optional-
Download Details: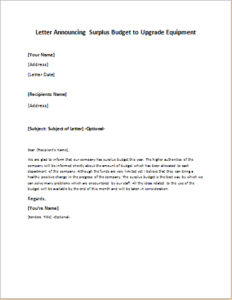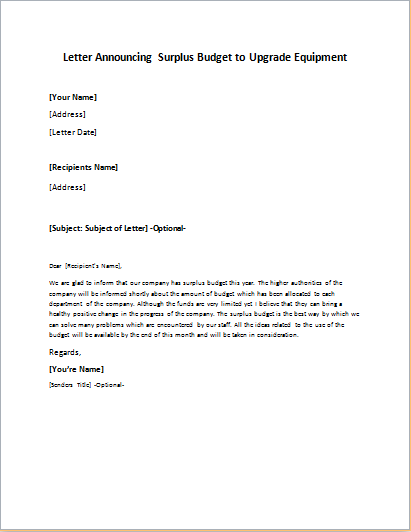 Letter Announcing Surplus Budget to Upgrade Equipment

Size: 25 KB Word .doc File 2003 & later
Download
Size: 194 KB PDF File
Download
[personal use only: Not for Resale & Distribution]