Apology Letter for Missing Attachment
Sample -1
Dear Anderson,
I, Garry, working as a customer service representative in XYZ company, am feeling extremely sorry and therefore writing you this letter to seek an apology for my mistake in the previous mail I sent you yesterday.

In response to your request email to our company, I was supposed to send you the prices of various products along with their description. I did the same but doing so, I mentioned the price details but forgot to attach the product details. At that moment I was not able to even realize this mistake but today, as I was following up my yesterday's emails, this mistake was revealed to me and I felt ashamed of my act of negligence.
To err is the human. This act of mine also falls under the category of human error since I did not do it deliberately. Therefore, knowing this fact, forgive me for this negligence. For the sake of compensation, I am sending you this letter and your required document along with the company's products on which we are currently offering 50% off for a week only.
I hereby assure you that this kind of negligence will not be exhibited in the future and at the same time I again submit my apology.
Yours truly,
XYZ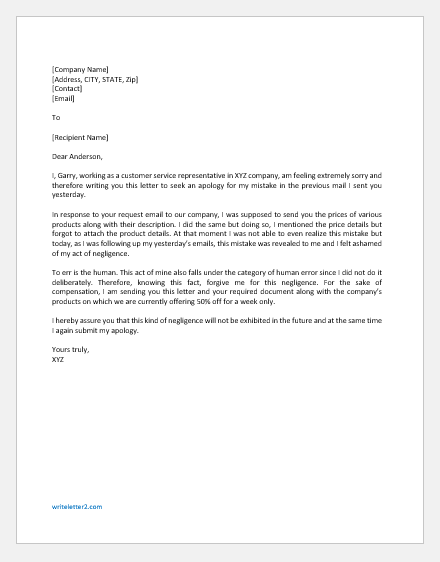 Size: 21 KB Word .doc File 2003 & later
Download
---
Sample -2
Subject: Apology letter for missing attachment
Dear Ben,
I am Anderson, working as an assistant manager in XYZ Company. Today I received an email earlier in the morning in which you have submitted a complaint against one of our customer services officers that he did not provide you the required document but sent you the blank email instead. As we usually do, I took your email seriously and investigated the matter by myself.
Soon I found that what you were on right and our representative, Mr. Lee sent you that email. He admitted his mistake that he had to go somewhere in the town with the family and therefore while sending you the email, forgot to attach your required document.
Quality in terms of customer satisfaction is our hallmark and we don't compromise on it since we have adopted a zero-tolerance policy in this regard. Admitting the mistake, I hereby submit the apology on my company's behalf for this act of negligence and non-professionalism. At the same time, I assure you that this kind of activity will not be repeated in the future. The above-mentioned employee has also been reprimanded by the manager and asked for a written explanation for his mistake.
I hope you will continue doing business with us and the said mistake will not affect our relationship in any dimension. Once again sorry for the inconvenience you have encountered due to us.
Yours truly,
XYZ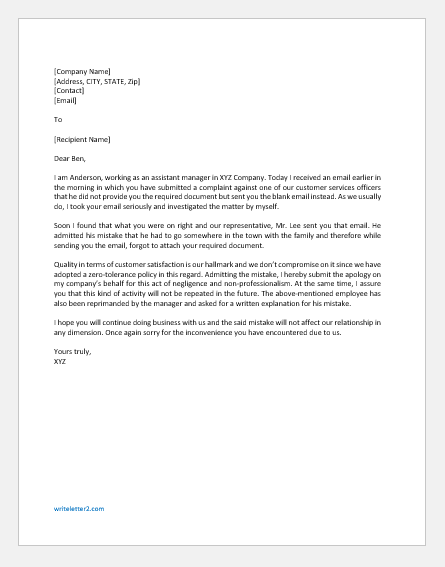 Size: 29 KB Word .doc File 2003 & later
Download