Cancellation Letter for Attending a Convention
Conferences, seminars, and conventions provide a lot of diversities and innovations to upcoming businesses and entrepreneurs. Likewise, they also provide new ideas to the industrial sector. Apart from conventions for industries and professions, they can be for culture and politics.
Political conventions discuss political issues and crises. Cultural conventions are for discussion on cultural norms and values. In addition to them, fan conventions are for the gathering of fans of a media type. These large gatherings of a group of people share the issues of common interest and end up with a result.
Nowadays, a lot of companies have given the ease of managing and organizing a convention as it needs proper planning and coordination. In addition, almost all cities have convention centers for hosting any kind of events with all facilities available. Such facilities prove much helpful when foreign delegations come to attend or host a convention. Apart from all this, conventions are also working for the gaming sector covering physical games as well as video games. To accept or decline an invitation to a convention a formal letter is sent. While cancellation the reason must be mentioned properly.
1-
I [name] am writing on behalf of [company name] to cancel the invitation extended to you for the Annual National Medical Association Convention which was to be held on [date] at [venue name].
As you know every year, Doctors and other health professionals from across the country assemble to take part in the intellectual discussion of medical developments, deliberate over important health policies, and share experiences.
We like to do a background check on everyone who has requested to present their research on this occasion. Your credentials didn't check out and despite multiple attempts to contact you, our team could not get a hold of you. Also, we had requested all the keynote speakers at the event to send their speaking points beforehand so that they could be reviewed by our committee you did not respond to this request either despite multiple reminders.
We did not expect such carelessness from a professional of your caliber. After all this, we have no option but to cancel the invitation extended earlier. We hope that you would understand the position we are in. Looking forward to more responsible behavior from your side.
2-
I [name] am [designation] from [organisation name]. I regret to inform you that we are canceling the invitation sent out to you to attend the Annual Conference on Diabetes arranged by our prestigious organization on [date] at [venue name].
This decision has been taken due to the rise in Covid cases. As you know we are in the middle of a new wave of Covid and the government has prohibited any gathering larger than [number] so it has been decided that only the keynote speakers would be invited to the venue and the event would be conducted online.
The Convention will arrange first-rate live and nonspontaneous content, providing ample opportunities for the participants to network. Our virtual platform is very user-friendly and it will give you a fascinating interactive experience and will offer many means to involve the listeners.
We as Health care professionals know better than anyone else that Covid is a very real threat, one which cannot be ignored or taken lightly. This was not an easy decision for us and the transition from a live event to a virtual one was not easy. It took a lot of effort and hard work to arrange a virtual event of this scale and magnitude. We look forward to your active participation and hope that it is a learning experience for you and benefits your patients.
3-
X Miller Corporation.
Marco Arnett.
56 St. Diamond Avenue, San Francisco.
September 23rd, 20XX
Mr. Bruce Anderson.
HOD
Innovations and Technologies Corporation.
11 St. Silver Lake Avenue, San Francisco.
Dear [Recipients Name],
Hope you are doing well. I am writing to inform you that I would be unable to attend the spring convention on entrepreneurship in New Jersey. I am much regretful for not being contributing as an active member of the board of insurance this year.
The reason for the cancellation is that I got a sudden accident yesterday. I got a fracture on my left arm and leg. This all happened so suddenly. I talked to the doctors about recovery and they told me that my injuries will be recovered in a month. I would suggest Miss. Ashley Wilson of entrepreneur's Insurance Corp for replacement. I am much upset about any inconvenience. I hope to work together next year.
Stay safe and blessed.
Sincerely,
Marco Arnett.
CEO, X Miller Corporation.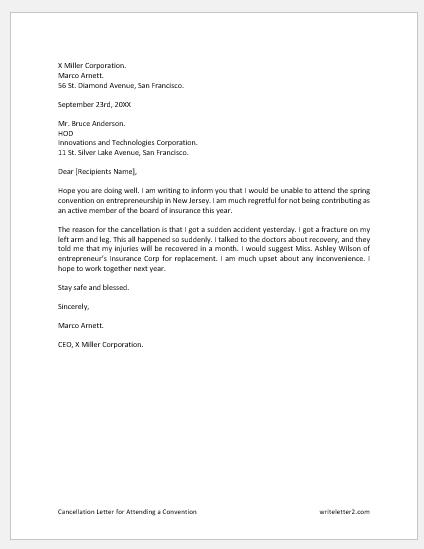 Size: 24 KB Word [.doc] File