Letter to Suggest a Solution to a Company's Problem
Letter -1
It is to inform you that our [x] Company has been going from a great loss for the last three months. This is much unexpected for us. Our Company has been working in import and export for the last fifteen years.
This is the first time that we take so much loss in the past few months. Our company's CEO works very hard for the betterment of the company but due to this constant loss our CEO is in great shock and unfortunately, his condition is also not good for taking stress. We all have to work together to resolve this problem as soon as we can. 
I have some suggestions for the loss. I assure you that we can regain the amount of the loss.
Our XYZ Company should cancel the big projects with other states and start working with the small market with affordable prices.
We should buy things according to our budget and sell them with two percent profit.
We should give sales on our bigger products. From doing this we can earn more profit.
Also, we can sell our company's extra furniture for the payment.
If we can work together on this plan, we surely go through this hard time, but we will have to stay united and patient.
I hope that you like my suggestions and ideas. If you like it then we will arrange a meeting and inform all the employees about it. For further queries, you can contact me on [X]. Moreover, you can also send your message via email at [X]. I hope you will like my idea. I am looking forward to your response. Thank you for your precious time. Best wishes.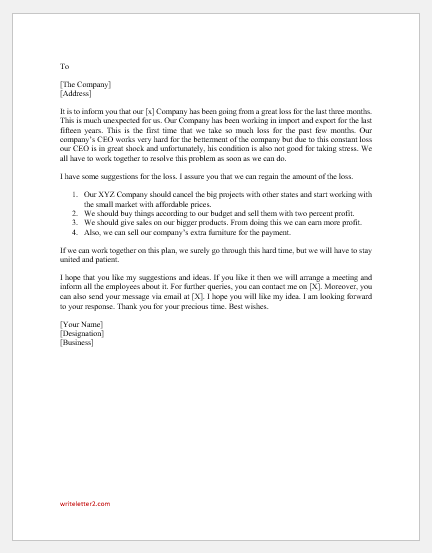 Letter -2
I am writing this letter to inform you about the present situation of our X Boutique. Our X Boutique is the most famous in the city, but we are at a loss for the last two months due to Covid-19. Our new stock is still the same, not a single product has been sold out. If our boutique will work in such a state, it will completely shut down after months and our hard work will be wasted. We will have to do something to make a solution to this problem.
I have some ideas and suggestions for this loss.
We should sell our new products with fifteen percent off.
We should take more orders at an affordable price.
We should launch a new product that will attract the attention of the public.
We should give sale on our high products. It will increase the publicity. Moreover, we can work from door to door with cheap and affordable home delivery charges.
We should hire quality staff to work home to home for the marketing of our product. Also, we can use different social media platforms for online marketing purposes.
I hope you like my opinion and give respect to my suggestion and idea. If you like my idea we can freely arrange a meeting and discuss all the scenarios with our other colleagues. For further information, you can contact me on [X]. I am waiting for your positive response. Thank you for your time. Good luck.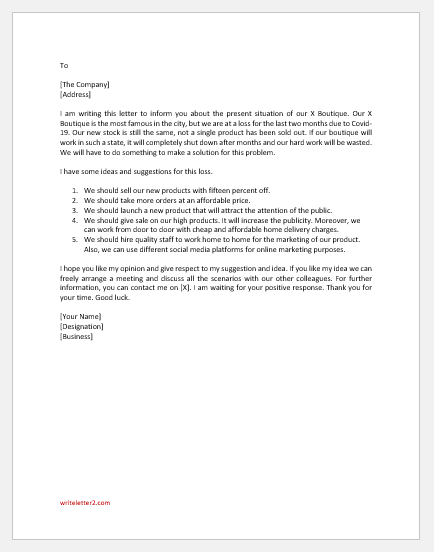 When you are working in a company or you are an old customer of a company, you may find the company facing several problems during its working. Giving the solution to the company's management is a tricky task. The suggestion should be given in a respectable tone and the letter should be very precise. Try to explain the situation where you saw the problem arising and the letter should be convincing so that the reader can pay attention to it.
Also, suggest calling the meeting in order to elaborate on your suggestion in more detail. There should not be any criticizing words in the letter rather it should reflect the concern of the writer. The solution along with some specific details should be given in the letter. You can also ask for feedback from the reader in order to know if your suggestion has been accepted or not.
Letter -3: Short format
I am a little concerned about my sales team. The company gives two months of training to the employees and there is only one month of work which puts the company at the loss. The hiring process of the company should not be based on two months of training.
I suggest that there should be some changes in the hiring process of the company. The employees should be bound to work with the company for at least one year. Hiring new employees frequently affects the performance of the company. I hope that you will take my suggestions into consideration and will provide the opportunity to solve the problem.