Thank You Letter for Experience Certificate
Sample -1
Re. Thanking you for the Generated Experience Certificate on the Completion of the Internship in Youth Skills Program 20XX-20XX w.r.t Youth Skills Internship Program 20XX-20XX Referring to the ad no. 2321c/20
Dear Sir, I am Jeremy Hopkins from San Diego, CA. I worked as an internee in your organization in Youth Skills Program 20XX-20XX. With reference to the subject cited above, I am writing this to thank you for giving me an opportunity to work here as an intern and providing me with the experience certificate. I am also grateful to you for providing me the chance to learn a lot of new things and acquire the best of skills. Working in this organization and learn something while staying under your supervision was always a dream for me.
I had applied for the internship under Youth Skills Program 20XX-20XX as a Junior Instructor and joined the organization on 20th March 20XX. Due to coronavirus, we had to do most of our work online with the use of virtual instruments. During my working period, I learned a lot of new things and improvised my communication skills.
I worked as a communicator and instructor while teaching basic communication skills to the youth of eighteen to twenty years. I learned a lot while teaching and communicating with the students and youth coming for acquiring skills. I also encouraged them for the betterment and prepared them for the future. The skills and lessons I learned in TFLT Organization will help me in building my career in instructing and teaching.
I am grateful to you for providing me with the experience certificate which will add to the slot of working experience in my CV and make its outlook worthy and professional. I thank you again for all the considerations you made for me.
Regards
Jeremy Hopkins
Instructor in Communication and Professional Skills
TFLT Organization, San Francisco, CA, USA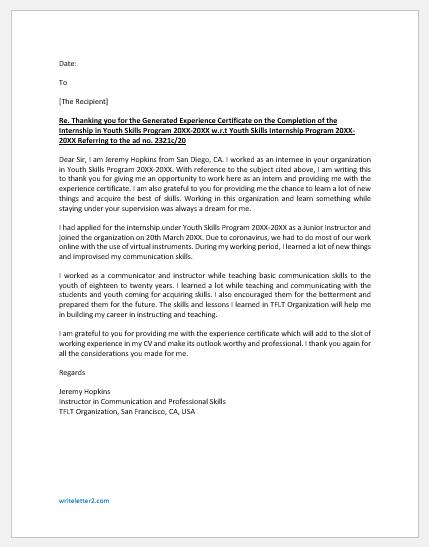 Size: 21 KB Word .doc File 2003 & later
Download
---
Sample -2
Re. Thank You Note for the Experience Certificate
Dear Sir/Madam,
I am extremely delighted and thankful to you for the experience certificate I was provided with. I started working as an Intern in the Department of Human Resources on 3rd August 20XX. It was a six months' internship program that was later extended by March 20XX. I would like to appreciate the company for its professional and integral staff who remained very helpful and cooperating. All of them treated me very well and taught me greater skills on every step.
In this internship, I learned and improvised the skills of professional communications, networking, and organizational skills. Moreover, I learned how to communicate and frame my ideas into something functional and operational. The internship made me more confident and made me acquainted with a lot of new research skills and available data. I also learned to understand the digital stocking. I acquired management skills and practiced the best of them.
With this internship, I got the chance to showcase my skills and identify and employ them accordingly. The provided experience certificate will add to my resume and make up its professional outlook. I appreciate your consideration, help, guideline, and sincere insights to teach me. Thank you.
Regards
Chandler Hooks
L-95, Stone Walls Square, Broncos Road
San Francisco, CA, USA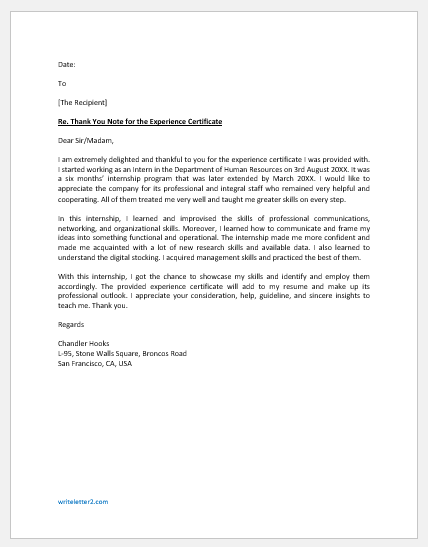 Size: 23 KB Word .doc File 2003 & later
Download