Letter from a Nurse Seeking Employment
In order to find a job in any sector, one must keep a check on the available opportunities and should go for it right away. Jobs in different sectors require certain education and professional skills. For this, people apply for jobs by sending over their curriculum vitae to seek employment of their interest. In the case of Nurses, the most important thing is proper education and experience. The following letter can be used to apply for a nursing job.
1-
I am writing to you in response to the advertisement published in [newspaper name] on [date]. I feel that I am a suitable candidate for this job. I have a [name of degree] Degree in nursing from [college name] and an experience spanning [number of years] years in which I have taken care of countless patients. The reason for studying nursing was that it was my passion to provide healthcare.
Personally, I am very organized and patient, two qualities that have helped me a lot in my work as a pediatric nurse.
Currently, I am working as a registered nurse at [hospital name]. My job includes taking care of [number of patients] children daily; I monitor their vitals and ensure that they get their medicines on time. My stay here has been very productive and I have learned a lot most noteworthy of these are the proper way to collect samples, dose titration for BP management, and the Insulin sliding scale. All these experiences will help me in my future assignments.
I would like to work for you as I feel that I can offer a great deal due to my experience in the health care of children, which is your primary requirement. I am attaching a detail of my work assignments for your review.
2-
I read your advertisement on the website [web address] regarding the requirement of a nurse for your elderly mother. I am a trained Nurse and have [number of years] experience in caring for the elderly.
I studied from [college name] and did my training in [hospital name], which is one of the most prestigious hospitals in the city. I completed my training with distinction. After that, I worked as a private nurse for an elderly lady, who had broken her leg and was diabetic. When she got better, I worked for an old lady who had dementia and hypertension.
During my stay with them in addition to monitoring her vitals and giving her medicines on time, I also ensured that she was eating properly, sleeping on time, exercising regularly, and not taking undue stress. I worked for her for [number of years] till last year she passed away due to COVID.
As your mother is diabetic and hypertensive, I feel that I understand her medical issues and can handle them better than others. I can comprehend the complications attached to these diseases and the dietary restrictions one must look out for. Due to my work requirement, I have read extensively into diabetes and looked into alternate medicine. We can discuss these too if you choose to have an interview with me.
I have added the contact details of my previous employers for your reference. Looking forward to hearing from you.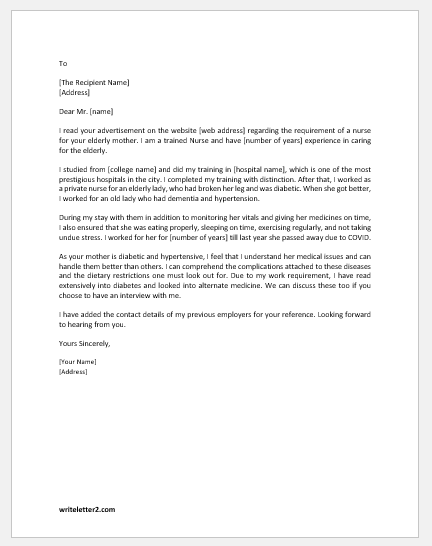 3-
This letter has been written in reference to your advertisement regarding the need for a member of your nursing staff in the Sunday magazine of last week. I have a [graduation degree] with a course of [two years] of nursing. I have [two years] experience as a nurse in [capital international hospital].
Moreover, I completed a diploma in personal nursing. So, you can employ me as a member of your nursing team or as a personal nurse, I can do both. To me serving humanity is an ultimate goal, giving back to society and helping the needy.
While being a nurse, one must have a polite tone and a kind heart to treat his/her patient well. I believe this can cure half of the disease. Many times, the full attention of the nurse and the proper care to the patient does wonders and work like a magic. Therefore, I believe nursing is more of a sacred act than a mere job.
My CV and other important information are attached to the letter. Thank you!