Warning Letter to an Employee for Absenteeism & Bad Performance
Teamwork and discipline are two main values and keys to success for any company or organization. A Single entity cannot achieve any target nor can a team do without discipline. A weak shackle can break the whole chain no matters how much strength other parts have. When someone in this chain performs extraordinary, he is appreciated in term of promotion, extra salary or any other monitor benefits. Similarly, when some employee is out of discipline, he is to warn prior any disciplinary action against him.
Warning letters are the best source to reform someone and give him a chance not to repeat the mistake again and to get rid of any habit that can eventually lead the company to failure. Furthermore, warning letters are also ready reference and written records to make the profile of a person.
Letter
This letter is a warning for your performance as well as attitude to behave with seniors. For the last two months, you have remained unsatisfactory and absent from duty without information as well as did not respond to any call to clarify your position.
A verbal warning has already been given to you for your excessive leaves but you are repeatedly walking on the same track. This act forced the company to start a disciplinary action against you and get a replacement of you for future concerns but after careful consideration I believe that this is temporary descend, otherwise you have been a prolific employee and you are given a chance to explain and reform yourself.
Therefore, you are warned that unless you show satisfactory performance and better behavior, you are liable to achieve charge sheet on repetition and dire report at the end of the year.
I hope you would comply with the instructions strictly and would not repeat it next time and you are also required to acknowledge the receipt of this letter as soon as you receive it.
Sincerely,
Charles Jones.
Download Details: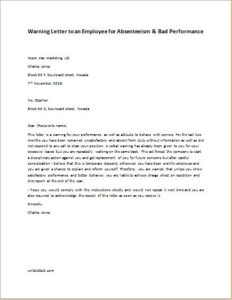 Warning Letter to an Employee for Absenteeism & Bad Performance
Size: 33 KB Word .doc File 2003 & later
Download
Size: 312 KB PDF File
Download
[personal use only: Not for Resale & Distribution]