Complaint Letter about Wrong Information on Flyer
Flyers are one of the cheapest forms of advertisement. Through flyers, not only the message can be sent to the public at a low cost but a face to face feedback can also be taken. Also, the production of flyers is easy as compared to the other means of heavy and costly advertisements.
Cheap or expensive, the matter of concern is how the advertisement has been made. The main purpose is to deliver the information and colors or material are not a big concern though they are to some extent. Something can go seriously wrong if the flyers distributed to the public do not have the correct information.
1-
I placed an order of 5000 flyers from your company about an event we wish to organize. This is a music event which will be held at the National Auditorium on 15th January 20XX.
I received the flyers yesterday and unfortunately, our contact information is printed wrong on all the flyers. Your representative asked me to give all the information in written form as well as in a soft copy fifteen days prior which I obliged.
I checked the information I had given him to print, and I can assure you that there was no mistake from my end. This printing error has created a stressful situation for us as we have very few days left to advertise the event and sell tickets.
I am sending back the flyers and I want you to correct the error or print new flyers and send them to me as soon as possible. I would also like your company to compensate my shipping charges which I will have to pay to send these back to you.
We expect excellent service from your company as you have made quite a reputation for yourself. Your good reputation was the prime reason for choosing your company for this job in the first place.
We look forward to your cooperation in resolving this issue as soon as possible. Thank you in anticipation. 
Regards,
Tommy Lee.
2-
Dear Mr. Alexander Timothy,
I am writing to place a complaint regarding wrong information on the flyer of your event. The date was mentioned 30th December 20XX, 3 pm on the flyer and I reached the venue at the said time and date which I must mention, is quite far from my residence. Upon my arrival, I was informed that the date of the event had been changed and the event had already been conducted a day prior.
This update was apparently circulated through your social media pages and not through new flyers. I am disappointed that I missed the event due to the wrong information printed on the flyer. Furthermore, I am writing this letter to ask for a refund of my ticket money which went to waste due to a mistake on your end.
In addition, I would like to request you to please check the data you print on your flyers as people like us rely solely on them for information regarding events.
Not everyone regularly checks organizers' social media pages for updates regarding events whose flyers have already been published. In case a change must be made in the date, time, or venue of the event, please publish new event flyers which have a wider reach in the audience that does not use social media.
We hope that you will take notice of this complaint and make amends. Thank you for your cooperation and consideration in this matter.
Regards,
John Lee.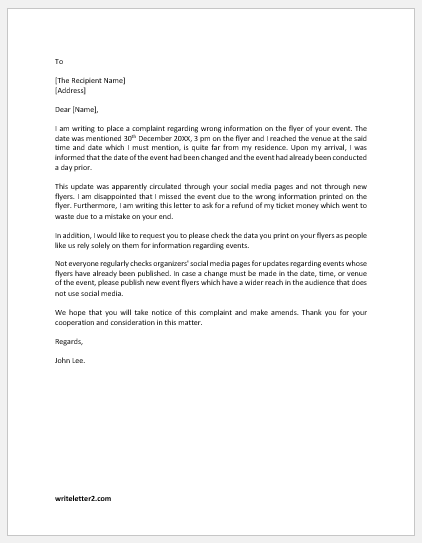 Size: 17 KB Word .doc File 2003 & later
3-
We are arranging a musical concert for fundraising this summer for which we needed to make the advertisement. Along with using other sources to advertise the event, we also thought to use flyers to deliver the information to a large and wide public.
An order has been placed with your company for 10,000 copies of flyers and a clear printed script was provided with the details and design format to be followed. Your agent has sent me an exemplary print of the flyer which was a part of the testing print.
I want to notify you that the date mentioned on this test flyer is wrong and the background color was to be black, not blue. Kindly fix this problem before the plethora of flyers starts getting printed.
Kindly fix this error and for a safe side, provide me with another sample print to approve before printing 10,000 copies. Many thanks!
Download Details: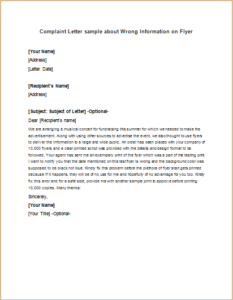 Complaint Letter about Wrong Information on Flyer
Size: 25 KB Word .doc File 2003 & later
Download
Size: 234 KB PDF File
Download