Complaint Letter for Trespassing
The man is a social animal and lives in a community. Community demands a set of laws to live a peaceful life. In this community, a house is a secure place where we live our private life and respect the rights of our neighbors. In the same way, we also expect our neighbors to show general courtesy to avoid trespass in our boundary.
In other words, nobody likes to disturb his privacy by others beyond the allowable limit. There may be any reason but the act of trespassing always disturbs you and makes you feel uncomfortable on its repetition. The simple headway to stop anyone is to directly inform him of your consensus and warn him on the spot. Moreover, "No Trespassing" signs boards can be placed in various places. If the problem persists then help from the police department can be solicited as a last option.
Letter –

1

Mario M. Jeffrey
24 Renton St. Sky Top Avenue, New York.

June 21st, 20XX

Mr. Charlie Mc. Abraham.
24 Renton St. Sky Top Avenue, New York.

Dear [Recipients Name],

I [name] am the resident of [address]. We have been living here for the past twenty years and there has never been an issue. As you know my house is right next to your school and often the football, cricket balls or shuttles from the school drop on our lawn.

Earlier your school's security guard used to ring the bell and someone from our house would hand over the item dropped but lately, we have noticed that students especially the boys of senior classes jump over the wall and come in our lawn to pick up their balls or shuttles. This is very shocking and totally unacceptable as it undermines our privacy. We cannot relax even in our own house, not knowing when someone is going to come in unannounced.

Also, when they jump over, they trample the flower beds and damage the plants. Our lawn is a frequent winner in the community annual spring lawn competition and we start preparing for the competition as early as February. Our gardener and my family all work together for this coveted prize and when someone jumps in our flowerbeds wasting all our effort and causing us monetary and emotional loss we cannot ignore it.

Please teach your students that respecting others' property and privacy is basic manners and it is very disappointing to see kids this age being so unruly. Your school's name commands respect and has a certain image, this behavior of your students is damaging to your school's reputation. Please deal with students involved in this behavior firmly. There should be no compromise on discipline.

Please look into this matter fully and ensure that such incidents are not repeated. As I will be forced to involve the authorities in case of any further.

Sincerely,

Mario M. Jeffrey.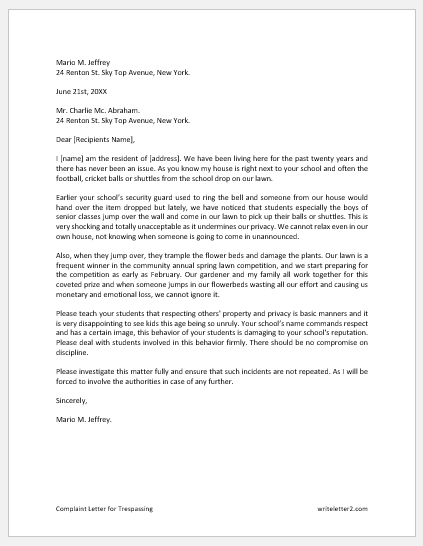 Size: 21 KB Word [.doc] File
2-
I [name] resident of [address] wants to report an incident of trespassing that took place on [date] at 11 pm. My wife and our two daughters were in their respective bedrooms while I was in the sitting area when I heard some noise from outside. When I went to the window I saw a shadow cross the lawn.
I turned on the lights of the porch and called our guard on the intercom to come in and check who is wandering on the lawn. When the trespasser heard this commotion, he climbed up the wall and jumped outside. Our guard tried to follow him but he ran away before he could be caught.
Needless to say, this incident has scared us and we are feeling very unsafe. Our entire family could not sleep a wink all night and we are still wondering why someone would enter our premises in such an inappropriate manner. We are unsure of the motive. Whether it was a robbery attempt or it was a thief who was running after robbing someone in the neighborhood. It might even be a scout of the robbers looking around before the actual crime.
Whatever the motive, this incident has shaken us and we want to request you as the head of our housing society's security, to look into this matter deeply and resolve the issue using the CCTV footage of the neighboring area.
Looking forward to swift action.