Disagreement Letter Regarding a Mistaken Deduction
To write disagreement letter of any type there are some general guidelines that should be followed to keep the letter as formal and professional as possible since it is not only your face to face interaction that leaves an impression about you but also your black and white. To write disagreement letters;
Make sure you explain the matter in detail.
Mention your disagreement and the argument to support it.
Disagreements can be made without going out of the way harsh with somebody so remember to remain ethical.
Consider the mistake done as an unintentional act and not an intentional one.
The disagreement letter should not be a disclaimer. You might be wrong in your disagreement. It is recommended to wait for the explanation from the other side before declaring final decisions.
Disagreement Letter Regarding a Mistaken Deduction
[Your Name]
[Address]
[Letter Date]
[Recipient's Name]
[Address]
[Subject: Subject of Letter] -Optional-
Dear [Recipient's name]
I was shopping at your store last Sunday when I used my debit card to pay for the items that I had bought. The total bill was $200 as per the shopping receipt that the man at the counter gave me; however, I realized later that deduction of $50 other than $200 was made on my card. Because I was in a hurry I could not check the debit card deduction notification on my phone. $50 is not a small amount to give it away without any reason. I'm sure this was only a mistake and can be fixed, therefore; I request you to kindly look into this matter and refund me whatever was charged in extra. As a proof, I have attached the essential documents i.e. the shopping receipt bill, debit card bills.
Hoping for a prompt rectification of this problem! Thank you.
Sincerely,
[Your Name]
[Your Title] -Optional-
Download Details: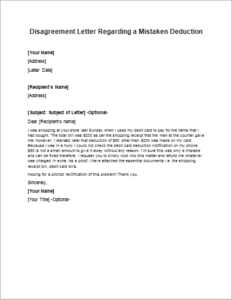 Disagreement Letter Regarding a Mistaken Deduction

Size: 25 KB Word .doc File 2003 & later
Download
Size: 349 KB PDF File
Download
[personal use only: Not for Resale & Distribution]