Disagreement Letter Regarding a Mistaken Deduction
To write a disagreement letter of any type there are some general guidelines that should be followed to keep the letter as formal and professional as possible. Since it is not only your face-to-face interaction that leaves an impression on you but also your black and white. To write disagreement letters;
Make sure you explain the matter in detail.
Mention your disagreement and the argument to support it.
Disagreements can be made without going out of the way harsh with somebody so remember to remain ethical.
Consider the mistake done as an unintentional act and not an intentional one.
The disagreement letter should not be a disclaimer. You might be wrong in your disagreement. It is recommended to wait for the explanation from the other side before declaring final decisions.
1-
Dear Mr. Kendrick Jones,
I am writing to inform you of a probable miscommunication that has led to a mistaken deduction from my debit card. I wish to inform you that I availed your service on 25th December and also used a discount coupon which I got through the local newspaper. I was told that the service will cost 200 dollars however 350 have been deducted from my card. I was in a hurry at that time and did not check the bill there and then. I realized about two days later that I have been overcharged.
According to my calculation, after using the discount coupon, the service should have cost me 200 dollars. As you can see, the difference of 150 dollars is a lot and it is not justified to deduct just like that. I request you to please return my money as soon as possible as it is highly unprofessional to charge almost double the amount agreed.
In addition, I would also like to inform you that I reached out to your branch personally before writing this letter. Your representative had a very rude attitude with me and instead of admitting the mistake, I was told to write a letter to you as they are not allowed to make any returns. I hope that my complaint will be taken seriously, and I will be returned the extra amount as soon as possible. Thank you for your cooperation.
Regards,
Ms. Anna Karim.
2-
Dear Mr. James Corden,
I am writing to inform you about a mistaken deduction from my account. I recently signed an insurance contract with your company and availed myself of the Golden insurance plan. According to the company policy stated on your website, the monthly payment is 800 dollars for the plan that I am availing of. The first payment was due on 1st January which was deducted from my account after my permission.
I just checked the records and about 950 dollars have been deducted from my account as opposed to the initially agreed 800 dollars. I would like to formally file a complaint regarding this. If this was accidental, then please send me a letter confirming this and return the extra money charged.
In addition, if the total sum of 900 dollars is not a mistake and the total sum was reached after some hidden charges that have been added to the basic 800 dollars, then please let me know very clearly. In that case, I would like to withdraw my subscription immediately as not only is it fraudulent on your company's part but it's unaffordable for me at the moment. I cannot afford to pay 950 dollars per month on my current budget. Please clarify the whole situation to me and resolve this issue at your earliest.
Thank you and regards,
Scarlet Johnson.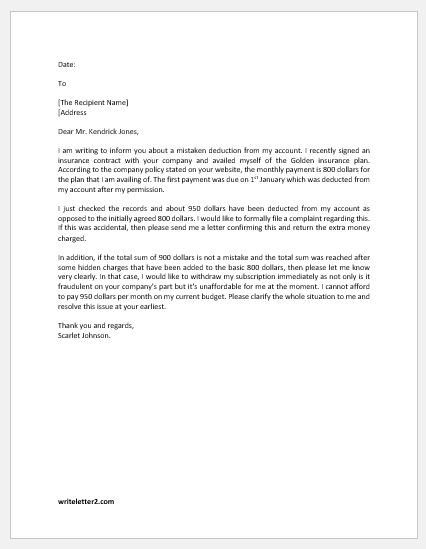 Size: 14 KB Word .doc File 2003 & later
3-
Dear [Recipient's name]
I was shopping at your store last Sunday when I used my debit card to pay for the items that I had bought. The total bill was $200 as per the shopping receipt that the man at the counter gave me; however, I realized later that a deduction of $50 other than $200 was made on my card. Because I was in a hurry, I could not check the debit card deduction notification on my phone. $50 is not a small amount to give it away without any reason.
I'm sure this was only a mistake and can be fixed, therefore; I request you to kindly look into this matter and refund me whatever was charged in extra. As proof, I have attached the essential documents i.e. the shopping receipt bill, debit card bills.
Hoping for prompt rectification of this problem! Thank you.
Sincerely,
[Your Name]
[Your Title] -Optional-
Download Details: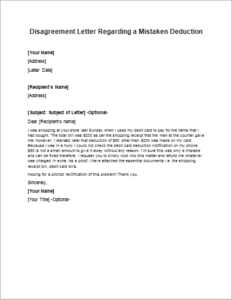 Disagreement Letter Regarding a Mistaken Deduction

Size: 25 KB Word .doc File 2003 & later
Download
Size: 349 KB PDF File
Download