Complaint Letter for Unannounced Holiday at School
Planning is a part of life and schedule is the part of planning. In other words, life is not complete without planning and planning is not complete without a schedule. Then adherence to the schedule has also the same importance as planning. It means that whenever we want to do something in life or achieve something in life, we need a strong planning, a schedule and then execution of that schedule to achieve our plan. It is common saying that change is always better but a change in schedule may ruin your planning. When planning is messed up then definitely our goals are disturbed. Therefore, we don't want change in this regard. For example, something unavoidable may ruin the planning of tour; fever can make you absent in exam. But these examples are for granted and from nature. There is some example in which you can complain about the human factor. For say, an unannounced holiday in a school or in a town can stop you from performing a lot of daily works that are only possible in working hours.
Complaint Letter for Unannounced Holiday at School
Orchard Apartments
Troy Gerardo.
Block 10B, Ocean Avenue, Texas.
July 14th, 2017
Mr. Zane Payton
Vice Principal
Rise and Shine School
13 St. Diamond Avenue, Texas.
Dear [Recipients Name],
I am Liza's mother and I am writing a complaint about an unannounced holiday in the school. My daughter was supposed to appear for the exam yesterday and I was told at the gate of the school that school is closed due to construction work. It was totally unannounced and spontaneous that even lot of parents felt inconvenience. My daughter was not feeling well even then she was studying hard for the exam and all of sudden it was informed in the morning that school management has announced holiday. Secondly, I drop my daughter for school on my way to the office and this unannounced holiday made me late from my office too. Because I had to take her back to home and then rushed towards my office which took almost double time than the usual. Kindly, inform the parents in good time before for the holiday to make it convenient for us.
Sincerely,
Troy Gerardo.
Download Details: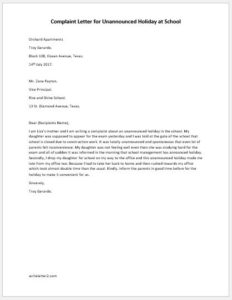 Complaint Letter for Unannounced Holiday at School
Size: 57 KB Word .doc File 2003 & later
Download
Mobile Version: Polaris Office & Google Docs
Size: 18 KB File
Download
[personal use only: Not for Resale & Distribution]