Announcement Letter of a New Distributor
#1
Re. Announcing the Hiring of a New Distributor for the Latest Launched Gross (Multivitamins
Dear all, this letter serves as an announcement letter purporting to manage the new patterns of distribution for the said product. With reference to the above-cited subject, it is announced that we have hired Mr. Medlrum Williams as a distributor for the company. The distribution of the latest launched product by our company, named Gross, shall be supervised by him. He will be looking after all the distribution patterns of this product from 12-08-21. He will be joining us from 12-08-21 i.e., from tomorrow.
We, recently, have launched our multivitamins product named Gross which seems to be high-demanding in the market as it is made with organic ingredients and is highly effective. It is not possible for the earlier distributors the complete all the targets of distribution for this product. To cater to the demand of the supply, we have taken Mr. Melrum Williams.
Meldrum Williams has a diploma in Marketing Skills from the Gales College of Marketing and Business Skills. He has wide experience of working as a distributor and marketing Seargent. He has eleven years of working experience in this field and has been attached to several high-profile manufacturing companies. He has excellent communication skills and is ardent in business dealings with local companies, stores, and vendors.
Having distributors with unmatched skills and competency avoids a lot of stress and workload for manufacturers and they can focus better on the core of their business. Hiring Mr. Meldrum Williams as a distributor/supervisor distribution was a much-awaited time for us. We are glad that he will be working with us from now. I hope you all will cooperate with him on professional terms and prove yourself a strong and courteous team. Thank you.
Regards
Nelson Forks
General Manager
I-Dex Group of Companies
R-320 Helley Tower, Sector G, R/23
San Diego
CA, USA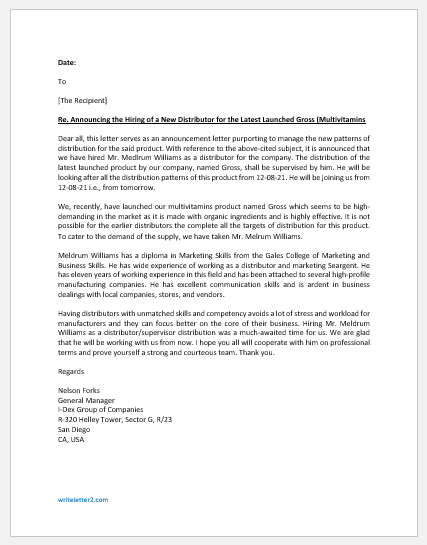 Size: 23 KB Word .doc File 2003 & later
Download
---
#2
Re. Announcement of New Distributor
Dear employees/clients,
With reference to the quoted subject, I want to introduce Mr. Cooper as a new distributor of our company. This accretion has been made by the joint consultation of Human Resource and Sales Department. To curb several issues prevailing in the department of sales and distribution, we have hired Mr. Cooper who will be acting as a Senior Distributor and would additionally provide consultation on sales and retail market.
Recently, it has been reported that the distribution of our products has been suffering because of the staggering market in the wake of Covid-19. Coronavirus has immensely impacted the patterns and organizations of sales and distribution due to lockdown implication and rapid change in the imperatives of the business and market.
Mr. Cooper has a broader line of experience in working as a distributor. He has a panoramic understanding of the market and retail outlets. He is graduated from Nelson college in Sales and Finance. He has a broad line of public relations and market mechanics. He will be working as a distributor interacting directly with the Warehouse Manager and Customer Care of the company. He will be taking care of integration work for all the local retails.
He has been, additionally, given the duty of catering the custom configuration and all the paperwork required for international shipping. Moreover, he will take care of the shipping regulations on the local and international levels. He will directly deal with the issues related to accounting, clients' complaints of shipping regularization, and products.
We believe that having Mr. Cooper as our distributor will expand our market incurring high digits in value and core competency.
We expect you to welcome the new accretion to the team in the best of regard and keep the professional inculcation all the round. Thank you.
Stella Hoover
Senior HR Manager
Graham Tech Manufacturers and CO.
E-110, Sector E-5, Edward Main Boulevard
Boston
CA, USA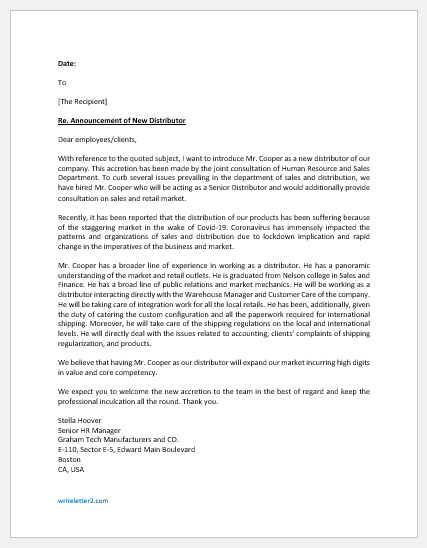 Size: 23 KB Word .doc File 2003 & later
Download