Double Charge on Credit Card Correction Letter
Mistakes are made by everyone and everywhere. They are sometimes made during billing or charging. A customer can be charged twice or thrice, less or more etc. In the cases where one realizes that something went wrong, he should get to the authorities to complain about the issue. People are sometimes mistakenly charged twice on their credit cards and they realize this after reading their credit card statement. Sometimes the amount is little enough to be ignored but other times, it is big enough and the person should complain about it to get his money back. A double charge on credit card correction letter can be written to the relevant authorities in order to draw their attention towards the fault.
Double Charge on Credit Card Correction Letter
[You're Name]
[Address]
[Letter Date]
[Recipients Name]
[Address]
[Subject: Subject of Letter] -Optional-
Dear [Recipient's Name],
I am writing this letter to you regarding the double charge on my credit card which was made when my card was used for billing at your [enter place/service]. I have my credit card statement with me and according to the statement, a charge was made twice, that too on the same date. I am assuming that it was a mistake and I now want you to look into the matter.
I am also sending you a copy of my credit card statement. The best solution would be to charge my card with the amount that was charged in extra. Thank you!
Sincerely,
[You're Name]
[Senders Title] -Optional-
Download Details: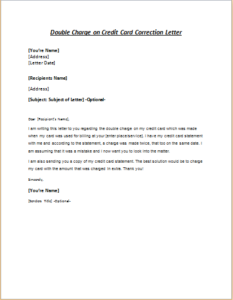 Double Charge on Credit Card Correction Letter
Size: 26 KB Word .doc File 2003 & later
Download
Size: 288 KB PDF File
Download
[personal use only: Not for Resale & Distribution]