Letter to Call a Meeting to Discuss Management Issues
Sometimes there are a lot of management issues in an organization that the owner decides to set up a review meeting to discuss all the matters. The letter can be written to all the concerned people to attend the meeting which is being conducted for discussing the management issues of the company and for sorting them out. The letter should express your concerns about the management issues of the company. You should know the exact pattern of letter writing. It should also be known that how to draft a formal letter. The formal letters are usually serious. The tone of the letter should be gentle and the language to be used should be simple and easy to understand.
The letter should not contain any statement in it which creates ambiguity or confusion in the minds of the reader. The details of the meeting such as date, time and location should also be mentioned in the letter clearly. The subject can also be added to the letter to make the reader understand what the letter is trying to explain.
The agenda of the meeting should also be elaborated in the letter. Telling the agenda is very useful for the reader as it will make the reader mentally prepared for the meeting and he can also note down some important points to be discussed in the meeting. You can also tell the duration of the meeting. The letter should be ended with the positive message.
LETTER
Dear [Recipient's Name],
There are many management issues prevailing in our company. I want all the managers to enjoin and discuss all these issues. The company is setting up a meeting on 15th November in which all the managers will come and discuss the issues and suggestions will also be taken from the managers to solve all the issues related to the management.
[Your Name]
[Senders Title] -Optional-
Download Details: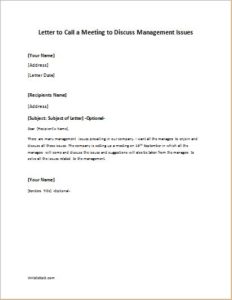 Letter to Call a Meeting to Discuss Management Issues
Size: 21 KB Word .doc File 2003 & later
Download
Size: 316 KB PDF File
Download
[personal use only: Not for Resale & Distribution]