Letter Informing Customers of Price Increase
Any business agency or a corporation can write this letter to their clients in order to notify them of the price increase of a relative product, stating the effective date and upraised cost of that product. The customer is given the assurance of not failing the company's standard and giving the best services on behalf of the team members.
Moreover, evident reasons for upraised costs are justified that may be anything related to the increase of manufacturing goods, product price not meeting the market value, or simply when one organization wants to increase their business.
Sample Letter
[Sender's name]
[Designation]
[Name of Organization]
[Address of Organization]
[City Zip Code]
[Date]
[Receiver's name]
[Residential Address]
[City Zip Code]
Subject: Letter for Increase in Price of the Product
Dear Clients,
It always pleases our company to be a reason to serve you the best of our products and making you satisfied from our services but unfortunately, this letter highlights the notification of our revised policy on price lists of our bestselling product [Product name], effective from the date [Mention date].
Serving our customers has always been delightful and making them happy regains our enthusiasm to serve you our best conduct. This company was established on some ground rules which stated to please and serve the customers with our best abilities but now in order to maintain the past standard the upraise of our product [XYZ] is necessary.
Our company policy states that the appraisal form of a product is revised after [Mention the period] years in order to increase the cost over the time, therefore, changing the price of our product, from [Previous price] to [New price].
Hereby, declaring this policy, we will make sure to not degrade the quality of our product and maintain the high standard already set for our clients. Since the rate of other manufacturing products is increasing and our prices were already far behind the original market value, therefore, the need of increasing the price has drastically invoked. Meanwhile, the service charges are rising, and we have gained a lot of popularity in our clients due to which we have increased our business and hired new professional workers. This allows us to increase our rates for us to compete in the market.
This letter also provides assurance to never compromise over our quality and stick to the motto for our excellent services. Hence as an open notice, we welcome new customers to use this product on a trial basis for [mention days] days until they feel satisfied to purchase our subscription package. This letter is attached with our revised sales list which not only contains the product you have subscribed for, but also the rest of our on-demand products. You can feel free to contact us at our email and phone number [Provide communication details].
Thank you for being a part of [Organization name] family. We look forward to serving you our best products.
Sincerely,
[Your name]
[Your Signature]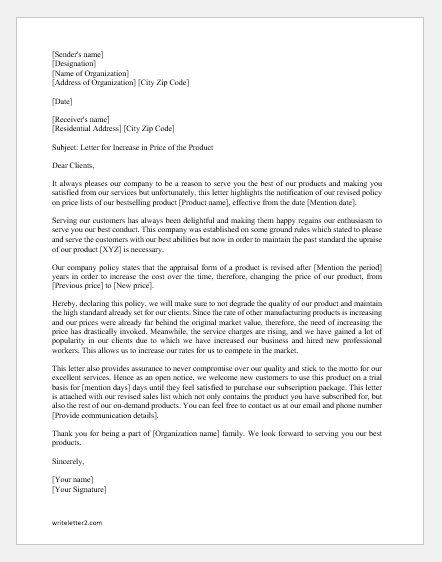 Size: 21 KB Word .doc File 2003 & later
Download