Email on Unsatisfactory Work from Consultant
1-
I am writing this email in order to inform you that your performance for the last two months is not up to the mark and as per the requirements of our company as it was reported to me by the chief manager yesterday. Your work has been found unsatisfactory, containing a lot of mistakes because you are not working professionally and diligently. Owing to your poor performance, the company had to bear losses.
Some organizational goals were communicated to you on the very first day when you joined this company. You had to design the strategies to fulfill these organizational goals and to boost up the company's performance. But it is panic to see that nothing much has been observed. Neither you have been able to achieve the stated goals and objectives nor have you made any strategy to boost up the performance. It seems as if there exists a contrast between the skills we have advertised and those found in you. As a result, our overall performance is falling down day by day which is an alarming situation.
If you feel there was any ambiguity regarding your job duties, you must have approached and asked your seniors to know about your job content in a better way. It could have helped you to understand better how to continue with the work and complete it successfully. But you did not bother to get advice from anybody in the company.
I tend to inform you to be careful in the future. Your overall attitude towards the job is not good and you are being warned not to repeat such mistakes in the future. At the same time, you are also advised to get yourself acquainted with desired skills and for this purpose, you must ask your seniors. If we do not see a remarkable improvement in your performance within this month, we shall take no time to say you sorry. We are waiting to see a positive change in your performance.
Yours Sincerely,
[XYZ]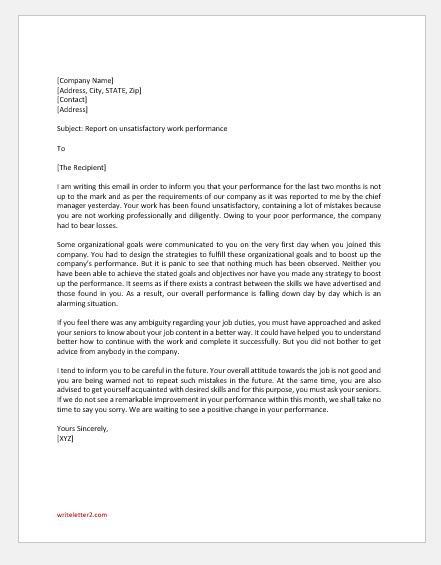 Size: 22 KB Word .doc File 2003 & later
Download
---
2-
I am writing this email after reviewing your performance and want to inform you that your work has been found unsatisfactory since you have yet not been able to work up to the mark and as desired by this company. Six months back, when you were hired, we were hopeful that you would help us and take our company out of all crises. But, sorry to say, no improvement has been observed in this regard which is not acceptable.
Being a consultant, you were supposed to handle business projects as assigned by our customers and to complete them on time. In addition, you were also given the task to improve the company sales and to take it up to an optimum level, streamline the management, and to design those kinds of proven strategies that would help in enhancing the overall performance of the company and increase the efficiency of our business. But it is painful to observe that no improvement in the said areas has been observed and the company's business is falling at a great pace which is an alarming situation.
The management has taken serious notice of the situation and directed me to inform you through this email that we do not want such kind of work from your side. You are being given 15 days to show improvement in said areas. If you fail to achieve the desired goals, your services will no more be needed and we shall be forced to hire any other consultant. So, you are advised to show improvement in terms of your better performance.
Yours sincerely,
[XYZ]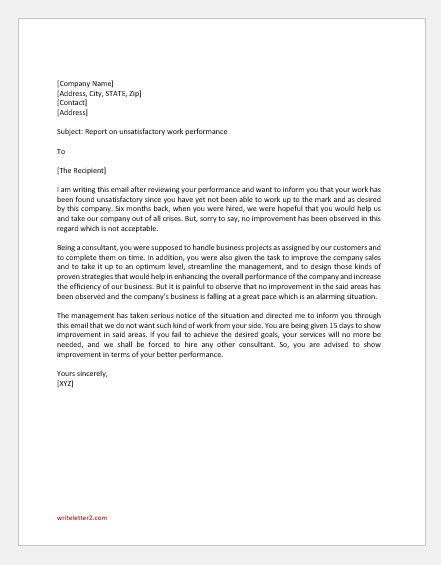 Size: 23 KB Word .doc File 2003 & later
Download