Resignation Letter with Complaint
Satisfaction is the most important part in a life of an individual. When a person is satisfied with his lifestyle, he feels peace inside and around himself. It can only come with internal happiness and internal happiness can come only when we cherish what we have. Most importantly, if we start comparing ourselves with other people, it leads to pessimism. A key to happiness is "think big thoughts but relish small pleasures". If we lead our life as per this statement, we would never find any difficulty in attaining satisfaction. On the controversial side, still, there are some factors that can lead to dissatisfaction and discomfort. Such discomforts affect the nature, habits and family life of an individual. Such factors can arise due to person's job or business. Sometimes, jobs become much troublesome for a person that it adversely affects the behavior. Such cases, if not tackled timely can lead to serious mental disorders. An employee is free to complain about any serious issue he is having relating to his job.
Resignation Letter with Complaint against Colleagues' Behavior
Frere Apartments
Robert Wheelock
35 St. Front Line Avenue, Las Vegas.
20th June 2017.
Mr. Andrew Jonathan.
Branch Manager.
The State Bank.
15 St, Red Star Avenue, Las Vegas.
Dear [Recipients Name],
I hope you are good. Today, I am writing to give my resignation from the bank. The reason for my resignation is the de- motivating and taunting behavior of all my colleagues. I am working in your bank as an accounts manager for six months. Throughout my educational career, I was the top scorer. My grades and extra-curriculum were outstanding. Almost one and a half year ago, I had a serious accident which leads to my broken leg. It was the worst day of my life. But I did not lose hope. All my colleagues' behavior is so immature and unprofessional regarding my disability. I was not expecting this behavior from educated and mature people. I tried to adapt myself with all this. But, it is just leading me to mental failures and negativities. I am unable to cope with this situation anymore. Please accept my resignation enclosed with this letter.
I am waiting for the acceptance.
Sincerely,
Robert Wheelock.
Accounts Manager, The State Bank.
Download Details: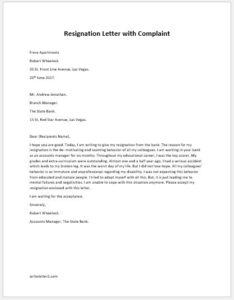 Resignation Letter with Complaint against Colleagues' Behavior

Size: 32 KB Word .doc File 2003 & later
Download
Mobile Version: Polaris Office & Google Docs
Size: 25 KB File
Download
[personal use only: Not for Resale & Distribution]