Welcome Letter for Wedding Guests
Celebrations are a source of great pleasure and contentment. Especially, family gathering multiplies the happiness. A wedding ceremony is full of fun and frolic. Different kind of entertainment brings a lot of enjoyment. It is a great source of meeting far off relatives. A wedding preparation consists of multiple activities. A lot of decoration is done in the home. If the wedding is at home a well-decorated canopy is made. It is made of multicolored clothes and paper flowers and lamps etc. An orchestra is arranged to have the fun of music and dances. Table setting for food arrangements are done and they are also well-decorated. Apart from all this, special arrangements are made for the guests. Guests are received and are served with cold drinks, coffee, and sweets etc. The proper function starts after the reception. After taking the oath the bride and groom are declared as husband and wife. Then they exchange garlands and rings and cut the cake.
Welcome Letter for Wedding Guests
Daniel Brandon
Block 23B, Park Avenue, New Mexico.
20th January 2017
Mr. Alex Jacob
Quadrant Star Hotel
34 St. Fleet Enclaves, New Mexico.
Dear [Recipients Name],
I am greatly pleased to have you at our beloved daughter's wedding. We are much blessed to have you with us. It is our long awaited wish. We hope you will enjoy the stay in New Mexico. The schedule timings of all events are stated in the invitation card enclosed with the letter. The pick and drop arrangements are done. If you have any inconvenience, please call on the number 5293214. We hope you will enjoy the fun and frolic here. As all events will be at night; I would recommend you to enjoy the daytime with family. Do try the Stuffed Sopapilla and Calabacitas of El Paso Restaurant near your hotel. And, also take kids to Carlsbad Caverns National Park. I am sure you have never seen such an amazing place before. You people are one of our most beloved friends. We express sincere gratitude to have you with us.
Hope you will incalculably enjoy the wedding.
Sincerely,
Daniel Brandon.
Download Details: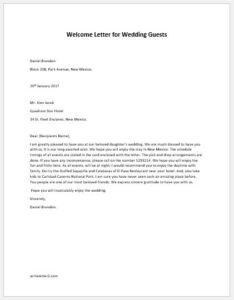 Welcome Letter for Wedding Guests
Size: 33 KB Word .doc File 2003 & later
Download
Mobile Version: Polaris Office & Google Docs
Size: 27 KB File
Download
[personal use only: Not for Resale & Distribution]