Letter to Cancel an Invitation to Decorate a Venue
An event is not completed without decoration of the venue. In small events, people decorate the venue themselves while grand events are outsourced for decoration. Searching for decorators is a tricky task that involves the reputation of decorators, quality of work and financial analysis. In this view, a meeting is planned with decorators, venue and its beatification are discussed with them and finally, financial aspects are confirmed. Sometimes, the booking is confirmed by paying an advance amount of money and sometimes, through written invitation to decorators. But in all the scenarios, it is advisable to show venue to decorators' prior dealing with them and selection of decoration may be conveyed through pictures if any event previously held at the same venue. On the other hand, the decorators also need to check the venue physically and understand the requirements of the client to avoid any inconvenience on the spot. And if the decorator is unable to provide requisite beautification due to any reason then the best way to inform the client is to write a letter to cancel the dealings.
Letter to Cancel an Invitation to Decorate a Venue
Classic Event Decorators and Organizers
Nicholas Edward
34 St. Andrew Avenue, Oklahoma.
April 30th, 2017
Mr. Xavier Jacob.
22 St. Park Avenue, Oklahoma.
Dear [Recipients Name],
I hope you are fine and enjoying your health. I have received your invitation to decorate a blue garden next week for the wedding ceremony of your son as per discussed manner. I am regretting to inform you that I am unable to decorate the venue in a stipulated time frame. At the time of the meeting, it was informed to you that we only book the client two weeks prior, at least. Secondly, the area is too wide to cover with just tiny stage settings. Moreover, arranging large-scale stage required two weeks to manufacture special stage. Therefore, it is decided to cancel your invitation to decorate the said venue to avoid any misconduct of the event with respect to beautification. It would be a logical decision to book any other decorator on earliest.
Thank you for your invitation.
Sincerely,
Nicholas Edward.
Manager, Classic Event Decorators and Organizers
Download Details: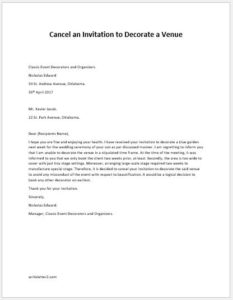 Letter to Cancel an Invitation to Decorate a Venue
Size: 59 KB Word .doc File 2003 & later
Download
Mobile Version: Polaris Office & Google Docs
Size: 19 KB File
Download
[personal use only: Not for Resale & Distribution]