Resignation Letter to Take an Early Retirement
There are many reasons for which people take the decision to resign from the job. They may want to start their own business, go to visit some other country for financial benefits and sometimes they want to leave the job just because they are not happy with it.
No matter what the reason is, it should be written in a positive tone. It is not good to give a negative impression of the company while leaving. The reasons should be described in a way that they look solid and concrete. Also, mention how difficult you have felt to decide for leaving the job.
Write about the good time that you had while working in the company and also appreciate the cooperation of the staff of the company. If you want to give the notice in the resignation, then mention the duration of the notice.
Sample Letters
I have decided to take early retirement from my job effective January 3, 20XX. You may find my decision quite sudden but honestly, I want to do a lot before I get too old. Despite the fact that I have decided to leave the job I still feel a great feeling of gratitude and happiness for working with you. I have learned a lot in the duration of the work. You have always been very supportive of me. I will stay for a reasonable amount of time until you get the best replacement.
I wish the company and the staff the best of luck in the future.
#2
After thinking carefully, I have decided to submit my resignation letter to take early retirement. I want to process my retirement effective from 1st August. The early retirement package offered by the company was much appealing that I decided to accept it immediately. Now, I want to leave as soon as possible.
I am filled with mixed emotions because I always wanted to stay longer with this company. However, there are a lot of things yet to be discovered. With my immediate attention, I want to explore new dimensions of my life before I get too old. I had never made such a difficult decision in my life. But now, after taking the hard decision of my early retirement, I am filled with excitement.
Yes, I am taking early retirement and I am grateful for your support and excellent career growth opportunities. I received consistent support from management. It in turn helped increase my productivity.
I am grateful for the time management spent on my training to enhance my creativity. You showed patience when I committed mistakes. Instead of getting angry, you motivated me to do better.
I will feel glad to stay here for some more time to train my successor to make the transition process smooth. I have planned to spend this summer season in town. For sake of your convenience, I will be available for consultation on a part-time basis. Please let me know if you accept my offer.
In the end, I would like to say that I spent a considerable part of my life working with you. I will always count on my sincere boss and close friends. I wish them all the best in their future endeavors.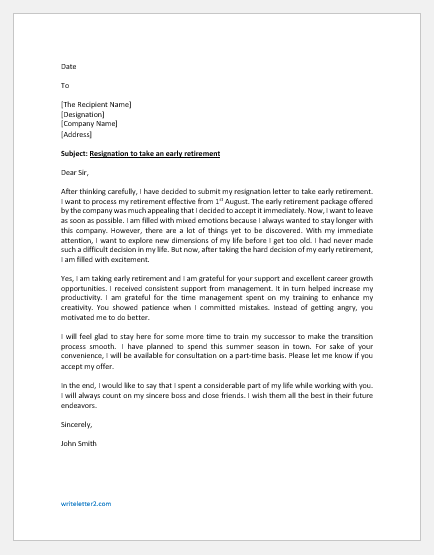 Download
---
#3
I am informing you with a heavy heart that I want to submit my immediate resignation to take early retirement. Although I can serve the industry for 6 more years, I want to leave earlier and the last date of my employment at your company will be 1st August.
Thereafter, I would like to spend more time with my family and closest friends. I spent more than 30 years in the pharmaceutical industry. Along with various perks, I had to face a lot of challenges coupled with intensive work. But still, I earned my name as a top-rated country manager.
Now I am looking for some sort of pleasure in form of traveling, golf, and skiing and this is the right time for me to take retirement.
My 30 years of experience with stars pharmaceuticals has been wonderful in all respect. I want to present my deepest gratitude for providing me with an excellent opportunity to serve the company for 30 years. You helped me polish my managerial skills by means of various training programs.
I enjoyed sharing my skills and knowledge with newcomers to inculcate the best job-related skills in them. I would like to say special thanks to my seniors, staff members, and colleagues for their motivation and cooperation. I served this company with my full potential. Now I can say with confidence that I promoted bright and talented pharmaceutical professionals.
I have maintained a good record of my projects and job-related work in order. It can easily be accessed by my successor in my office. Before my last date of employment, I request you find an alternative to make this transition process smooth.
I am ready to stay with you for a week to make my successor understand the exact nature of the work. I want to meet you in this regard at your convenience.
I wish all the employees the best of luck.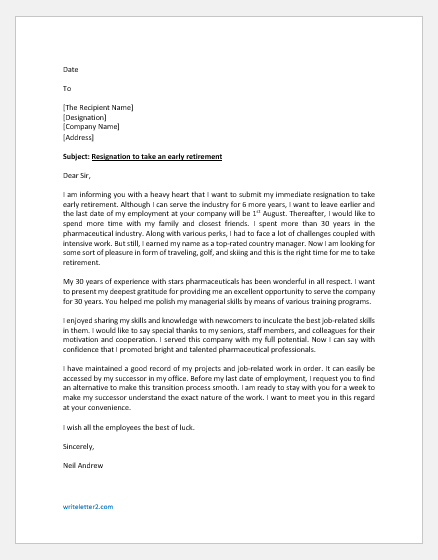 Download