Resignation Letter to Take an Early Retirement
There are many reasons for which people take the decision to resign from the job. They may want to start their own business, go to visit some other country for financial benefits and sometimes they want to leave the job just because they are not happy with it. No matter what the reason is, it should be written in a positive tone. It is not good to give a negative impression on the company while leaving. The reasons should be described in a way that they look solid and concrete. Also, mention how difficult you have felt to decide for leaving the job. Write about the good time that you had while working in the company and also appreciate the cooperation of the staff of the company. If you want to give the notice in the resignation, then mention the duration of the notice.
Resignation Letter to Take an Early Retirement
[Your Name]
[Address]
[Letter Date]
[Recipients Name]
[Address]
[Subject: Subject of Letter] -Optional-
Dear [Recipient's Name],
I have decided to take an early retirement from my job effective January 3, 2017. You may find my decision quite sudden but honestly, I want to do a lot before I get too old. Despite the fact that I have decided to leave the job I still feel a great feeling of gratitude and happiness for working with you. I have learned a lot in the duration of the work. You have always been very supportive of me. I will stay for a reasonable amount of time until you get the best replacement.
I wish the company and the staff best of luck for the future.
Sincerely,
[Your Name]
[Senders Title] -Optional-
Download Details: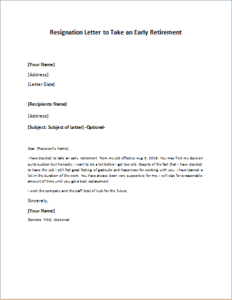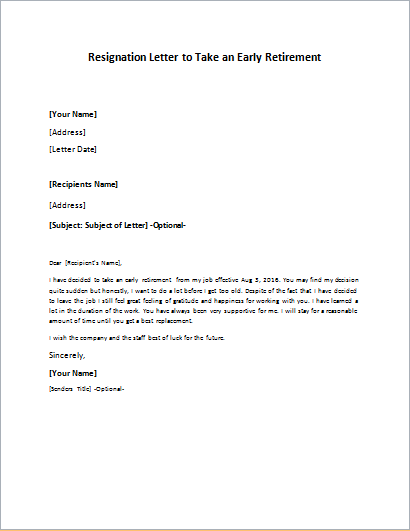 Resignation Letter to Take an Early Retirement
Size: 28 KB Word .doc File 2003 & later
Download
Size: 202 KB PDF File
Download
[personal use only: Not for Resale & Distribution]