Letter to Cancel a Service Contract
Service providers mostly provide services on contract basis. The contract can be yearly, semi-annually or even a few weeks, depending on the type and kind of services. Though service providers try to satisfy their customers since it is the customer through whom they are able to generate income, some services may not be satisfactory enough for the customers, or the customer may not be interested in taking the services anymore. In such cases, it is better to cancel the service contracts that one finds unsatisfactory or lacking quality.
For this, a service contract cancellation letter can be written. While the service contracts are canceled due to unpleasant reasons mostly, it is recommended to not write the service cancellation letter in an unpleasant tone. Remain formal and polite. However, it is good to record your reasons for cancellation so that they may improve their services for other customers later on.
Letter to Cancel a Service Contract
[Your Name]
[Address]
[Letter Date]
[Recipient's Name]
[Address]
[Subject: Subject of Letter] -Optional-
Dear [Recipient's name]
I am writing to you in order to request cancellation of the contract #123456. Your agent has been providing carpet cleaning services at my house since 4 years. It has been a good experience with your company, however; I am not satisfied with the services given in the last six months. I had recorded a complaint but was not responded in time. I think this is the time that I look for another company. I am canceling my contract with you. This cancellation will be effective from [date]. Thank you for your services.
Sincerely,
[Your Name]
[Your Title] -Optional-
Download Details: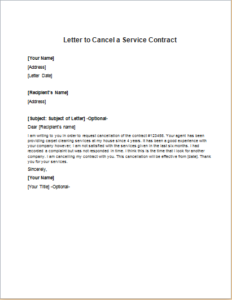 Letter to Cancel a Service Contract
Size: 25 KB Word .doc File 2003 & later
Download
Size: 158 KB PDF File
Download
[personal use only: Not for Resale & Distribution]