Letter to Cancel a Service Contract
Service providers mostly provide services on a contract basis. The contract can be yearly, semi-annually or even a few weeks, depending on the type and kind of services. Though service providers try to satisfy their customers since it is the customer through whom they are able to generate income, some services may not be satisfactory enough for the customers, or the customer may not be interested in taking the services anymore. In such cases, it is better to cancel the service contracts that one finds unsatisfactory or lacking quality.
For this, a service contract cancellation letter can be written. While the service contracts are canceled due to unpleasant reasons mostly, it is recommended to not write the service cancellation letter in an unpleasant tone. Remain formal and polite. However, it is good to record your reasons for cancellation so that they may improve their services for other customers later on.
1-
Dear Mr. Andrew Simpson,
I am writing to inform you that our company 'Modern Heritage jewelry' no longer requires your company's delivery services as of 15th January 20XX. We are aware of your company's policy of notifying any service cancellation decision at least two weeks prior. We comply with the minimum notification period of two weeks and hope that we will not be charged a fine for service cancellation.
We have availed of your company's delivery services since January 20XX and have never had any issues earlier. We appreciate your good service and quick response rate. However, as of recent, you have increased your service costs by 50 percent which has created problems for us and affected our business too. As a result, we have to charge an increased delivery service fee from our customers which have decreased our orders which in turn effects our business. 
We have found another delivery solution for our products which involves lesser costs as compared to your company. We hope that all our pending deliveries will be made before the service termination day, and they will not be delayed. In addition, we assure you that any pending payments on our end will be made as soon as possible so that we can end our contract on amicable terms. Thank you so much for your cooperation.
With regards,
Manager Modern Heritage Jewellery.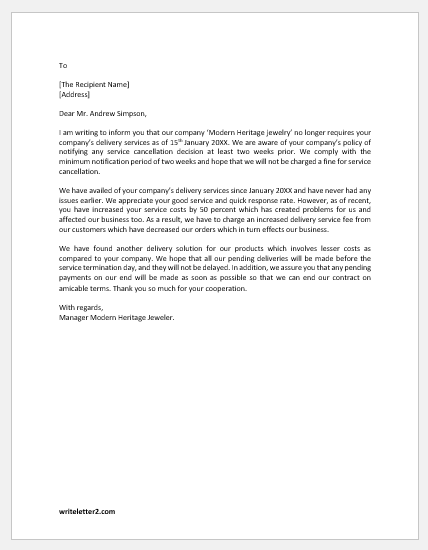 Size: 14 KB Word .doc File 2003 & later
2-
Dear Mr. Stevenson Smith,
Hope all is well at your end. This is to inform you that we wish to cancel our hotel's official service contract with your car wash company with effect from 1st January 20XX. We regretfully have to make this decision as there have been some issues our clients have faced recently while availing your car wash service.
As you are already aware, the guests that stay at our hotel are mostly of VIP status and they expect outstanding services from us and our business partners. While your car wash gives good car service, our guests have complained of theft of personal items from their cars.
This has happened more than five times previously where personal items have been stolen from their cars and this gives a bad impression of our company. We have made discussed this matter with your company's representatives previously but to no avail. Therefore, we have decided to cancel our contract with your company.
We hope that we will be able to proceed with this decision in an amiable and professional manner. Our company will clear any pending payments on our end as soon as possible to avoid any further inconvenience to either side. We hope that you will work on training your staff better and making strict policies with respect to employee ethics in which case we might consider future collaboration.
Furthermore, please send us the proof of receipt of this letter at your earliest so the contract can be officially declared canceled by 1st January. Thank you for your cooperation in this regard.
Yours sincerely,
Mr. Allison Parker.
Manager Hilton Hotel.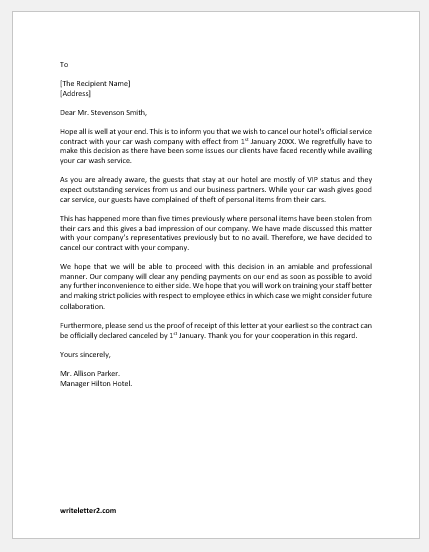 Size: 14 KB Word .doc File 2003 & later
3-
I am writing to you in order to request cancellation of the contract #123456. Your agent has been providing carpet cleaning services at my house for 4 years. It has been a good experience with your company, however; I am not satisfied with the services given in the last six months. I had recorded a complaint but was not responded to in time. I think this is the time that I look for another company. I am canceling my contract with you. This cancellation will be effective from [date]. Thank you for your services.
Sincerely.
Download Details: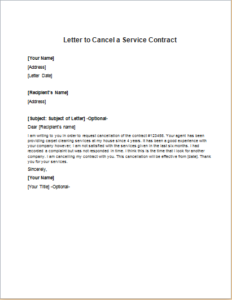 Letter to Cancel a Service Contract
Size: 25 KB Word .doc File 2003 & later
Download
Size: 158 KB PDF File
Download