Request Letter to Company to Clear Dues
Sample -1
I am working as a sales director at the BlueBeacon Company for the past six months. I am writing this letter to inform you that I have not been paid salary for the month of August and September. I wrote a letter to HR twice to remind them to clear my dues, but they told me that the employees will be paid salary a few weeks late as the company is going through a financial crisis.  
Last week, I was informed by Mr. Jenkins that he has been getting his salary on time and only a few employees including me, have had their salary delayed. I respectfully wish to state that it is unfair that I am getting the salary late whereas others are getting it on time.
It is respectfully requested to please clear my due salary at your earliest as it is causing problems for me. I recently purchased some property and I do not have much savings left. Withholding my salary makes me miss my due installments and my children's school fee. I am attaching my details below to make the process quicker.
Account title: John Doe
Account number: 028928 0828028
Bank Name: Chase Bank
Salary due: $3000 (for two months)
I hope that you will consider my request and clear my dues within this week. Looking forward to your cooperation in this matter.
Yours respectfully,
John Doe
Sales Director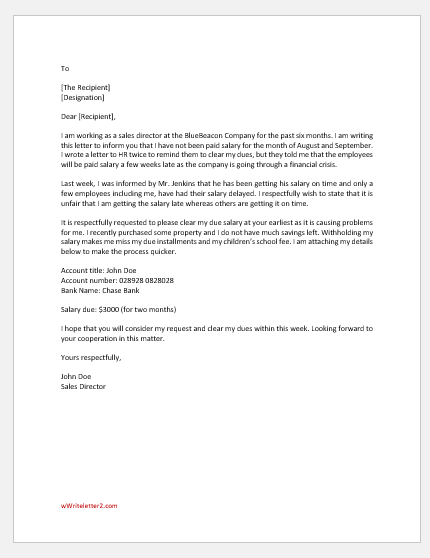 Size: 21 KB Word .doc File 2003 & later
Sample -2
Dear Ms. Anna Marie,
Good day. I am writing this letter to request you to please clear my due salary which has been delayed for some reason. I have not been paid salary for the month of September which is now overdue by fifteen days. I have emailed HR and given them reminders, but I did not hear back from them. I double-checked from the bank as well and they informed me the salary has not been transferred yet. I also wish to bring to your notice that every month the salary is delayed by at least a week, but this time it has been overdue for about two weeks now.
I request you to please pay your employees on time as many of us have hand-to-mouth salaries. Delaying payments causes unnecessary stress on the workers and they get demotivated. I am the sole breadwinner of my family and delayed payments put a lot of pressure on me as I am unable to fulfill my household duties.
In addition, my medical bills need to be paid every month which get late, and I am charged a fine almost every time. I have also attached a copy of my medical bills with this letter for your reference. Considering my financial issues, I request the company to please clear my dues at your earliest so I can fulfill my duties towards my family. Thank you for your time and consideration. I look forward to hearing from you.
Yours sincerely,
Mark Anderson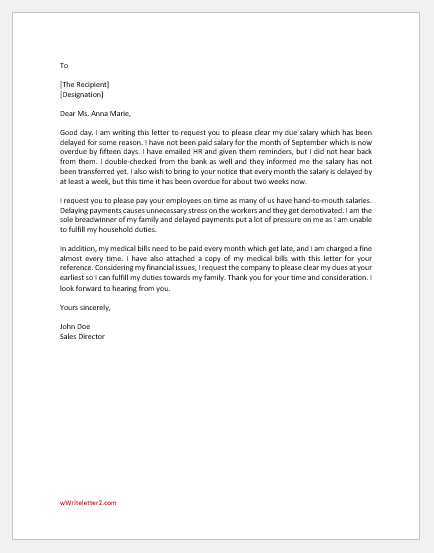 Size: 21 KB Word .doc File 2003 & later