Project Completion Status Email Template
Why is a project completion status email needed?
When you are given the responsibility of a project for a company, you need to provide updates of work progress periodically. There might be investors, stakeholders, or other authority figures who will ask you about the status of the project. You must be professional, organized, and present all the facts and figures in a brief manner in your email.
The mode of communication in all offices is through emails therefore, it is important to learn how to draft a professional email. Avoid giving unnecessary details and digressing from the subject at hand and instead, stay on point.
Moreover, do not leave things for the last moment so you must scramble to put a report together which will give a bad impression of your work ethic. If a template of project completion emails is available on your official website, then you can use it as well.
Employers appreciate the workers that complete their work on time with dedication and professionalism. It shows an employee's sincerity with the company and their dedication to work. Therefore, giving periodic updates to your superiors and completing work on time will undoubtedly keep an employee in his manager's good books.
How to write a project completion status email?
The most efficient way of communicating statistical data or work update is to either make a table or to use bullet points. However, if paragraphs must be used, then structure them properly and include any critical points which need to be mentioned.
This email should have two sections, task updates, and key highlights. Both these sections should include relevant information and key highlights should contain only critical information that is most important. All other detailed updates can be given in the other section.
Alternatively, you can also make a table with summarised or statistical information for example task is given, starting date, objectives achieved so far, percentage completion, and expected end date. If the project has been completed, then the end date should be mentioned.
The following points need to be addressed.
Was the project completed on time and within the budget?
What were the goals of this project and were they met?
Did you run in to any challenges? How did you overcome them?
Do you think the solution/product developed is in accordance with what the client wanted?
You may mention your teammates and how they worked hard for successful completion of this project.
Following is a sample email for the project completion status update.
Sample Email
To: The Manager
Cc: Major stakeholders, any colleagues who are a part of this task, clients.
Subject: Project Completion Status Update.
I am writing to inform you that the project named XYZ has been completed successfully. The project began on 20th June 20XX and the proposed due date for the conclusion of the project was 20th August 20XX. I am happy to notify you that due to the diligent work of the team and their untiring fervor, we were able to complete the project successfully. There was little delay in the work due to some unprecedented setbacks and a shortage of raw materials. Despite the delay, we were able to get back on track and finish the work on time.
We were able to develop an innovative solution to the proposed problem that tested well in the Quality assurance environment. Our key tasks were to develop a prototype and test it in real life and in simulation. We believe that this will be acceptable by our client and will be according to the technical spec they proposed. The project was completed within the budget allocated for it by the client initially.
Please don't hesitate to reach out to us if you need any further information regarding the details of the project.
Thank you
Yours sincerely
Signatures.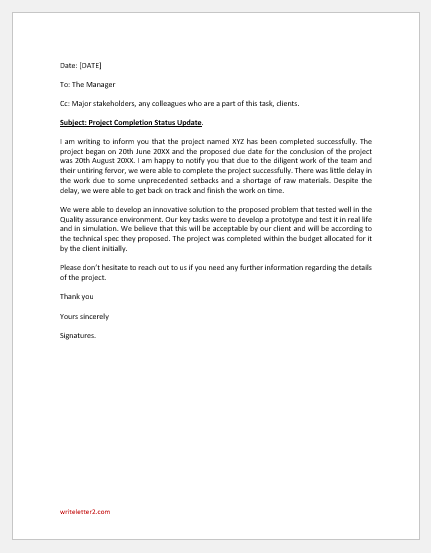 Size: 19 KB Word .doc File 2003 & later
Download