Request Letter to Replace an Old Computer
1-
Re. Replacement of an Olden Computer

Dear Marry,
I am Sarty, Head Controller in the HR Department of Lenox Hill Group of Companies. I am writing this letter to request you to replace the computer in my office. This computer belongs to former times and is unable to function properly according to the working demands of the office. As you already know that I am Head controller in the HR department, hence a major portion of my working capacity depends on my computer in use.
The computer which is currently in use is P4, belongs to an old time. It does run very well for a common user but for me, it is tough to work on this due to its slow running now. I also got it checked by the IT staff of our company. They informed me that the computer has no problem with its software and all that can be done is a replacement. Computer plays a vital role while working with heavy software and handling a massive amount of data. When it comes to customer or client dealings, it has to work swiftly to keep pace at work.
That is why I am putting it into a request to you to direct an order to replace my office' computer instantly as I am facing huge trouble at work. I hope you will understand this stumbling block in my work and help me in this regard at your best. I shall be grateful.
Thanking in anticipation.
Regards,
Party Cora. Lenox Hill Group
Columbia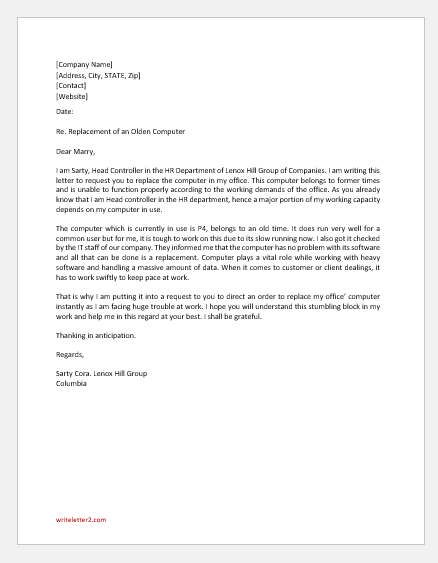 Size: 20 KB Word .doc File 2003 & later
Download
---
2-
Re. Replacement of the computer hardware
Dear Sir,
With reference to the above-quoted subject, I inform you that I am having great trouble in working with operational tasks due to the computer I have in the office for the past two weeks. It has started showing grave errors and huge laggings uploading content on the company software. It is very tiring and vexatious to use it because it starts rebooting just while pressing to save the data. Sometimes it just does not save the date and erase all the collected data showing it as unsaved. Due to these serious disturbances, I am unable to make big deals on this computer and work has become complicated for me. Many times, I have to do the same computations and then save it manually one by one which takes long hours to go.
Initially, I got this computer reviewed by IT officials of our company, but it did not help much in this regard. This is affecting the desired results and affecting my overall performance at work. Therefore, I beseech you to direct the IT department to replace the principal hardware of the computer so that I can work peacefully. It will not only help me in achieving the results and assigned tasks in time but also lower my disturbance at work. I hope you will look into this matter and support me in resolving it quickly. I shall be beholden to you.
Regards
Steward Jam
Store House Manager
Power Plants G1 Organization
Philadelphia, Pennsylvania, USA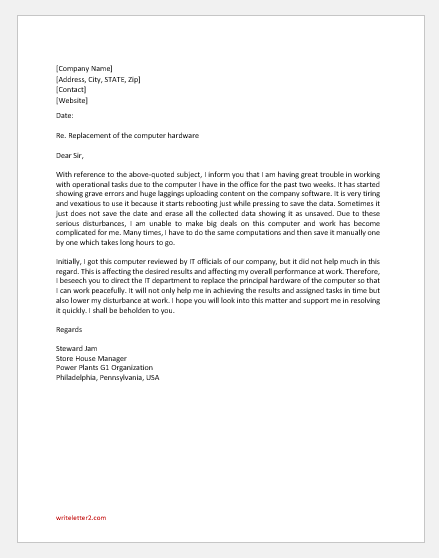 Size: 21 KB Word .doc File 2003 & later
Download