Thank You Letter to Teacher
Teachers are the nation builders. Their services to the society and their efforts for their students are always priceless. It is a great gesture to respect and acknowledge their hard work by writing them thank you letters. This letter is written to show your appreciation and respect towards your teacher. The letter is written in a very soft tone with warm gestures of acknowledgment. This will increase the level of respect between a teacher and a student and it is also an encouragement for the hard work of the teachers. The letter body is given below.
Thank You Letter to Teacher
[Your Name]

[Address]
[Letter's Date]
[Recipient's Name]
[Address]
[Subject: Subject of Letter] –optional
Dear [recipient's name],
I hope this letter finds you in good health. I am writing this letter as a thank you note for being such an inspirational teacher all these years. I am Kyle James and I have been taking your history class since middle school. I must say you are a phenomenal educationist, not just to me but to all the students, you are an inspiration. My words will fall short if I start counting your great abilities.
I am writing this letter to let you know that I really appreciate the efforts you put into your students. It is because of you that I started to develop my interest in history and now I have decided to take history as my major in high school. I wish and pray that you keep on spreading the light of knowledge you have in you to enlighten your students. I once again thank you for all of the wisdom you gave me and for making me a better person I am today.
Thank you very much.
Yours Sincerely,
[Your Name]
Download Details: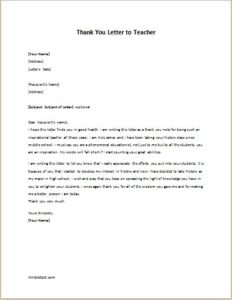 Thank You Letter to Teacher
Size: 30 KB Word .doc File 2003 & later
Download
Size: 201 KB PDF File
Download
[personal use only: Not for Resale & Distribution]