Letter to Volunteers Encouraging Future Participation
Generally, this world is a mean world and so are all its inmates. You'll hardly find such people who are selfless. Humans probably have been designed to seek a reward for what they do. So every other person out there is seeking a reward. Either in the form of money for services, services for services or in any other way. Among this majority is a minority that works without asking any reward; The selfless people The volunteers.
A volunteer is a person who offers his services without the condition of being paid. Volunteers are of great help and their services can be used for diverse purposes. But once the services of the volunteers are taken, the thing that encourages them to volunteer for you again in future is your recognition and encouragement for them. Well, even volunteers should be compensated. Their compensation is your recognition of their work which also encourages them to work for you in future. This letter can be used in order to encourage volunteers for future participation.
Letter to Volunteers Encouraging Future Participation
[Your Name]
[Address]
[Letter Date]
[Recipients Name]
[Address]
[Subject: Subject of Letter] -Optional-
Dear [Recipient's Name],
You have been working as a volunteer at [enter event/cause] for [duration]. Your participation made many tasks easy for us. It was through your help that we were able to deliver exceptionally well. For all that help and devotion we're grateful to you and want you to join us in future projects as well. Your contact information is recorded with us and we'll inform you the next time we need volunteers. We encourage you to join us in future.
Thank you very much
Sincerely,
[Your Name]
[Senders Title] -Optional-
Download Details: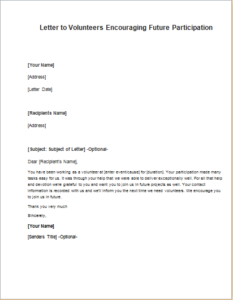 Letter to Volunteers Encouraging Future Participation
Size: 25 KB Word .doc File 2003 & later
Download
Size: 170 KB PDF File
Download
[personal use only: Not for Resale & Distribution]