Letter to Accept Job Offer as Computer Programmer
The letter to accept the job offer is written by the person who has accepted the offer to work as a computer programmer in any company.
The main purpose of writing this letter is to let the reader know that you have accepted the offer of the company and you are willing to work in the company on the proposed conditions.
The letter should be written in a positive tone and you can say thank you to the company which has offered you the position to work with it. There is some detail which is required in the letter. You can tell in the letter in clear words that you have left your previous job and now you are all prepared to join a new environment.
The tone of the letter should be positive. It is better to mention the date from which you will be joining the company. End the letter on a positive note and also write your expectations which you have from the company regarding your work.
Letter
I am very happy to inform you that I have decided to work as a computer programmer in your company. I am very glad to work with you and I am aimed at providing my all services to the company in the best possible way. I will be joining the company for regular work from 1st of next month. I hope that I will be able to work positively for the progress of the company by providing the best services.
Responding to counterproposal on the job offer
We have received your request for modifications to the offer of employment as a Senior Financial Analyst in the Accounting department of [Company Name].
We are very pleased that you are excited about working here, and we want to do everything we can to accommodate you and your family in making the move to Georgetown.
You asked for a starting date of June 1 to make allowances for your children's school calendar, and we are pleased to make that adjustment.
Regarding your request for an increase in the moving and relocation allowance from $10,000 to $17,000 I have consulted our Human Resources Office and they suggest the following:
"Because we have master contracts with several large moving companies, we should be able to negotiate better terms for your relocation. Therefore, we will amend our job offer to allow as much as $17,500 in moving and relocation expenses if you make all arrangements through vendors that have been pre-approved by Human Resources."
Your contact at Human Resources is Mary Swoboda, and she is ready to assist you immediately.
Please inform us of your acceptance of this job offer by sending a letter of agreement to me, or by signing the enclosed duplicate copy of this letter. We must be in receipt of this notification no later than May 1.
Download Details: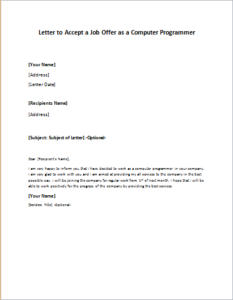 Size: 30 KB