Thank You Letter for Salary Raise
A successful organization always needs to build a trust and motivation in their employees. Bosses need to be the guiding star for their employees. This is important for both the company and employees. Awards, bonuses, and salary always give motivation to employees as well as enhance their skills and abilities.
To bring more out of the employees, bosses need to energize them by giving trust, giving space, having good communication, solving their problems. This all will result in integrity and honesty which in result gives outstanding results.
Trust among bosses and employees require awards bonuses. The chain of command from top to bottom needs to be communicating with each other for the success of their organization. And this can happen only if motivation level is high.
Apart, employees also need to be fair enough with their company to meet the required expectations of their bosses. Some award ceremonies should be held often. Some bonuses should be given regarding events or better performance. Salary raising criteria should be followed as per the rules and policies of the company.
1-
I am writing to thank you for acknowledging my hard work and raising my salary. I had started working on [date] and in the short time that I have been here I have learned a lot and I have tried to put in my best. It is really encouraging to see that my efforts have been recognized and rewarded. It is a great motivation for me to work harder.
I will work with more dedication knowing that my efforts are acknowledged and valued. Looking forward to serving you better.
2-
I appreciate your recognition of my efforts by raising my salary. I have been working as [designation] for the last [number] years but my efforts have never been recognized in the form of any bonus or pay raise. The pay raise I have got now, has raised my confidence and I will be working with greater focus and put in more hard work as appreciation is probably the greatest motivator.
I intend to put in more effort and work with more devotion. I hope that my project's results would speak for themselves. Looking forward to an even more productive year ahead.
Yours sincerely.
3-
Broaden Technologies Ltd.
Celina Jones
9 St. Central Avenue, New York.
[Date]
Mr. Charles David
CEO
Broaden Technologies Ltd.
9 St. Central Avenue, New York.
Dear [Recipients Name],
I hope everything is well. I am writing to express my gratitude for the salary raise last week. I am extremely thankful to you for giving a positive environment. I am very happy that you took note of my work. My work for your company was always generous utilizing my skills and abilities.
I am always being innovative and creative and I will keep up my steadiness. It has raised my motivation level. My work experience and the environment in your company always gave a positive impact on my personality.
During this hard time when it was difficult for you but you still managed to provide a great deal of motivation because of your generosity. I feel proud being a part of your company.
Thank you for your support.
Sincerely,
Celina Jones
Operations manager, Broaden Technologies Ltd
Download Details: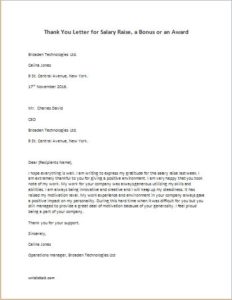 Size: 33 KB
Pdf:
Download