Letter to Travel Agency for Hotel Booking
#1
Re. Asking for a One-Bed Room in Five Star Hotel in Charleston, SC for Fifteen days

Dear Madam/Sir, I am writing this letter to reserve a room in a nice five-star hotel in Charleston for fifteen days. I intend to visit Charleston this month with my wife and plan to stay there for fifteen days. As I am already getting your services in air tickets and tourist guide, therefore, I intend to reserve the room to stay through your travel agency.
I shall be reaching Charleston on 7th June 20XX and staying for fifteen days. During those fifteen days, I plan to visit all the tourist points and historical places in Charleston. Charleston is famous for its great services and best guides; however, I would love to get your services in this regard. Our stay will be of fifteen days i.e., from 7th June 20XX to 22nd June 20XX. During our stay, we shall need a luxurious two-person bedroom having a small sitting or guest area. Along with other utilities, I would like you to make sure the quality of internet and room services.
Moreover, we shall need a taxicab to visit the places in Charleston, and for that sake; I would like you to book a cab for us for all fifteen days from 12 PM to 9 PM. I am completely relying on your services and promised quality; therefore, I hope I will not be disappointed. I hope that a great impression of your travel agency shall be engraved in my mind for future visits. I thank you in anticipation and request you to make sure of the quality and in-time reservations. Please find the required documents and a copy of the ticket enclosed. Thank you.
Regards
Carole Bennet
90-D Defrocks Street,
San Diego, CA, USA
Size: 21 KB Word .doc File 2003 & later
Download
---
#2
Re. Requesting One-Person Bedroom Reservation in Three Star Hotel in Boston, CA
Dear Loman,
I am Melinda Malcolm from Las Vegas, Southeastern Nevada. I am already acquiring the services of your travel agency for my visit to California. I had applied for the urgent ticketing that I received today in the morning. I am planning to extend my stay in Boston due to my work commitment. I have to stay in Boston, CA to visit some tech companies and meet their entrepreneurs.
It will take me at least one week to stay in the mainland city of Boston which is extendable depending on work completion and target accomplishment. I have chosen to reserve my living place through your travel agency. I would prefer to live in a one-person small bedroom in a three-star hotel giving all the utilities and quality housekeeping. Moreover, I shall need a tourist guide for two days on the weekend.
I shall land in Boston International Airport on 2nd June 20XX and shall stay there till 9th June 20XX. I have my extendable return ticket for 10th June 20XX booked through your travel agency. I have always been using your travel agency for my international or inter-state traveling and have never been disappointed. I hope I shall not be disappointed this time as well.
I have attached all the copies of the required documents. Please find my pictures for the identity verification enclosed. I also request to prioritize quality over any other thing. For more please feel free to contact me on +[X]. Thank you.
Regards
Melinda Malcolm
70-C ST Avenue, 55000
Las Vegas, Nevada, USA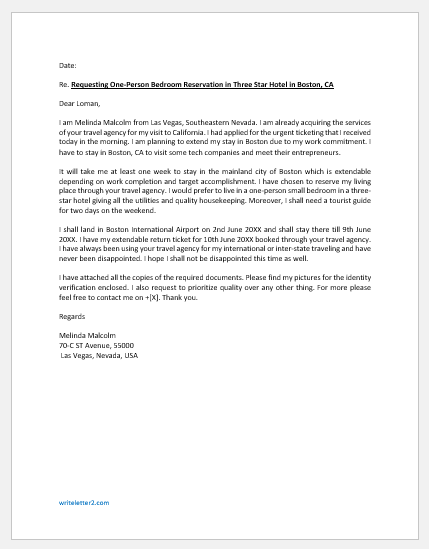 Size: 22 KB Word .doc File 2003 & later
Download