Complaint Letter to the Insurance Company about Unfair Accident Settlement
There are several clever tactics that many insurance companies follow to trap as many people as they can and then to reimburse with undue settlements in the case of insurance claims. A complaint letter can be written to the insurance company if one finds that his settlement is made unfairly. There are some important points that need to be kept in mind;
The follow-up letter should be written with a complaint only, along with important documents that are required so that the company might be convinced. There are possibilities that without any dispute, the company or the insurer will agree to pay what is demanded by the policyholder as his due claim.
In the case when the insurer denies paying the due settlement, the policyholder can knock the court's door since all insurance documents are legal documents and the claim can be taken to the native law for the solution.
This letter can be written as a follow-up letter to complain the company about the unfair accident settlement made by it.
Complaint Letter to the Insurance Company about Unfair Accident Settlement
[Your Name]
[Address]
[Letter Date]
[Recipient's Name]
[Address]
[Subject: Subject of Letter] -Optional-
Dear [Recipient's name]
I am writing to you regarding my insurance policy, the reference number of which is #123456. I had made a claim after an accident in which I lost both my legs. As per my policy, in the case of any accident, all dues are to be paid by the company. Even though I had attached the bills of the hospital where I was treated and am still under treatment, the company has reimbursed me with half of what has been claimed. I am unclear about the reason behind. I want to be explained how could I be compensated with half the amount when the policy says that full reimbursement would be made in the case of any health issues, accidents etc. You should have informed me if the proof documents were not sufficient. I am not satisfied with what I have been compensated. I am sending this cheque back and want you to make a reimbursement of the same amount that was claimed or otherwise explains on what basis the compensation has been made. I shall be waiting for a prompt and clear response. Thank you!
Sincerely,
[Your Name]
[Your Title] -Optional-
Download Details: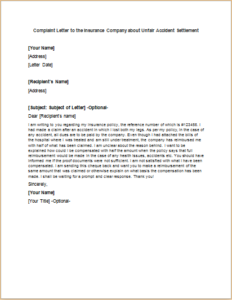 Complaint Letter to the Insurance Company about Unfair Accident Settlement
Size: 25 KB Word .doc File 2003 & later
Download
Size: 160 KB PDF File
Download
[personal use only: Not for Resale & Distribution]