Resignation Letters
It is not only a termination letter from an employer that an employee leaves a certain company. Sometimes, employees ends the working contract by putting a resignation letter.
There can be many reasons for writing a resignation letter. An employee might not be satisfied with the workplace, work overload, a dispute with boss or colleagues might insist one to write a resignation letter or an employee might find a better opportunity and he wants to quit. A resignation letter should be written in a professional tone and yes respectfully of course.
The letters given below can be used to take help to write your resignation.
General Resignation Letter
This letter is to inform you of my resignation. Please accept my resignation from the post of [enter post] as [enter rank].
My last day at the office will be [enter date]. The reason for my resignation is [enter reason]. I would like to say that I had a wonderful time working with you and learned a lot during the [enter period] years' time that I had at the office but since I have mentioned the legitimate reason of my resignation I want you to accept my resignation.
Please inform me if I am of any help regarding the recruitment for my replacement. Thank you for the time that we had together!
Resigning from Board Position due to Workload
I regret that I must resign my position as a member of the Board of directors of [Company/Organization]. I do so not because of a lack of belief in the important role of the organization but for exactly the opposite reason [Company/Organization] is so critical to the well-being of our [community] that I feel I am hurting its success because of my inability to devote enough time to the Board.
My recent promotion to executive vice president at [Company Name] has resulted in a significant increase in travel and other assignments that prevents me from devoting enough time to [Company/Organization]. You will, though, have my continued support within my own company and my personal financial contributions.
Thank you for the opportunity to serve these past three years.
Download Details: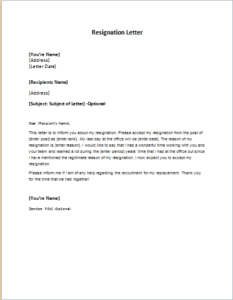 Resignation Letter
Size: 25 KB Word .doc File 2003 & later
Download
Size: 290 KB PDF File
Download
[personal use only: Not for Resale & Distribution]