Complaint Letter for Product Did Not Arrive
Improvement in production needs focuses the attention of higher management. It not only depends on the human resource management but also the timely availability of the raw material for the final product. Human resource management and availability of raw products work in a chain. Production pace is hampered if a single of them is not available. Human resource management means the right person for the right job and availability of raw products mean right product and its traceability for the smooth running of production. Therefore, these both factors are interlinked with each other and a strong management is needed to timely manage these factors to flourish the company. Human resource management is internal matter but ordering raw material and on time availability is a tricky task that involves outer sources also. In this view, it is recommended to sign a contract with the company who is providing the raw material, so that the case can be filed in the case of late delivery.
Complaint Letter for Product Did Not Arrive
Belloc Construction Company
Ken Clinton.
21 St. Orchard Avenue, California.
June 13th, 2017
Mr. Jack Peterson
Supply Manager
Tesco Cement Company
15 St. Bridge Avenue, California.
Dear [Recipients Name],
I hope you are enjoying your health. I have ordered two hundred sacks of cement via order no AS-99/17 on 22nd March 2017 which was supposed to reach at the company within the duration of one week as per contract. I have also released the 50% payment at the time of order but it is the second week that I am waiting for the product to arrive. It is pertinent to highlight that company is already short of cement as a raw material for the product and many orders are delayed due to the shortage of cement. Many of our clients have written complaint letters in this regard. If the situation prevails the same, then we must cancel the contract with you and must file a petition against your company upon loss suffered by our company due to non-arrival of the product. It is submitted that solve the issue as soon as possible to avoid any inconvenience.
Sincerely,
Ken Clinton.
Operations manager, Belloc Construction Company.
Download Details: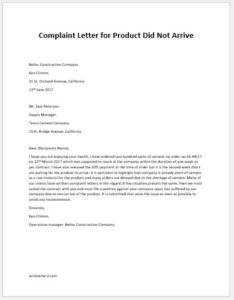 Complaint Letter for Product Did Not Arrive

Size: 59 KB Word .doc File 2003 & later
Download
Mobile Version: Polaris Office & Google Docs
Size: 19 KB File
Download
[personal use only: Not for Resale & Distribution]